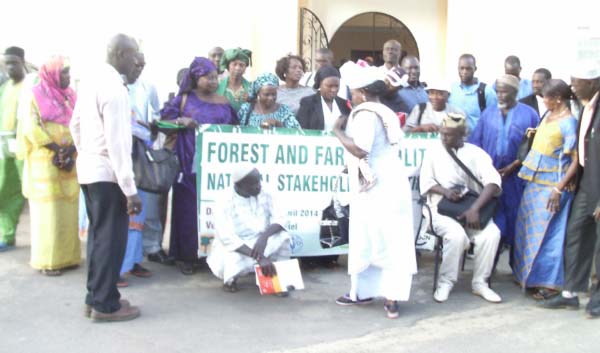 Representatives from various stakeholders, such as farmer organisations, public and private sector across the country recently held a daylong seminar on monitoring and learning system on Forest and Farm Facility (FFF).
The forum, attended by a team of representatives from Rome FAO headquarters and funded by the Food and Agricultural Organization, was held at the Ocean Bay Hotel.
The daylong seminar was meant to introduce the participants to the monitoring and learning system of the FFF activities.Speaking on the seminar, Mrs Perpetua-Kalala, FAO representative to The Gambia, said the FFF was launched in The Gambia in March 2013 with the objective of increasing the visibility and integration of forestry into other sectors.
She said the Forest and Farm Facility is a multi-donor programme, housed within the Forest Economic, Policy and Products Division within the Forestry Division of the United Nations Food and Agriculture Organization (FAO) and managed as a partnership between the FAO, the International Institute for Environment and Development and the International Union for the Conservation of Nature.
Madam Perpetua-Kalala said its primary support was channelled through a multi-donor trust fund, supported by Sweden, Finland and the USA and housed under an overall funding "Umbrella" within the FAO, which also receives support from the German-funded Carlowitz project.
The FFF was guided by a steering committee of experts drawn from diverse backgrounds and regions, she added. According to the FAO representative, the FFF funds partnership agreements and small grants with smallholder women's communities and Indigenous peoples' producer organizations and governments, at locals, national, regional and international levels, would be through certain pillars, thus strengthening smallholders, women communities and indigenous people producer organization for business/ livelihood and policy engagement.
She said the FFF vision is that "smallholders, communities and indigenous people and women's organizations have improved their livelihoods and decision-making over forest and farm landscape".
The FAO rep said she appreciated the efforts of The Gambia government and Gambians' active civil society for having successfully initiated the FFF pilot countries.
The representative of the director of forestry, Babanding Sanyang, said The Gambia was selected as one of the pilot countries of the Forest and Farm Facility as a result of the successes registered at the implementation of the National Forest Programme Facility by the department of forestry in collaboration with agencies, such as NACO, KOMFORA, and St. Joseph's Family Farm.Mr Sanyang said the FAO had been supportive of government through the department of forestry in developing better strategies for effective sustainable forest management through the involvement of stakeholder communities in the management of the forest resources.On behalf of the director of forestry and the Government of The Gambia, he thanked FAO Rome and Banjul for their roles in providing technical and financial support to the department over the years. 
Read Other Articles In Article (Archive)