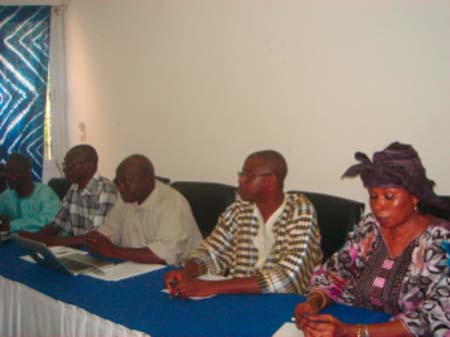 ActionAid International The Gambia (AAITG) on18 September held a validation workshop for its draft communication strategy at Tango hall in Bakau.
Speaking at the event dominated by representatives of various media houses in the country, Omar Badjie, AAITG Head of Programmes, stressed that proper communication "in everything that we do is essential".
"In our homes and at the workplace, proper communication is essential for cordial and peaceful co-existence. Many reasons inspired us into developing a communication strategy which includes among other things ensuring that we adequately motivate our partners and other stakeholders into action for change," he said.
According to him, they recognise the pivotal role communication plays in ensuring that sharing and learning can effectively take place between individuals, within and between organisations.
"Without communication, development will not be a reality and conflicts can rage and will never be resolved," Badjie remarked.
He stated that despite the incredible benefits communications can bring about, in the last AAI strategy (Rights to End Poverty), experience has shown that there was a gradual overall decline in communications impact over the period 2005-10.
"This may be attributed to inadequate investment, low levels of communications planning and coordination across different functions, gaps in senior leadership and 'communications' being typically regarded as a service function and rarely engaged in decisions over plans and budgets," he said.
The new international strategy, People's Action to End Poverty 2012-17, demands that AAITG invest in strategic communications capacity and focus on high-impact plans and activities.
"It is precisely because of all of the above that we feel it is necessary to develop a communication strategy that will guide our actions and help to properly document our achievements and experiences during our strategy (CSP IV) period," he said.
He added that the strategy will help to ensure that the quality of their programme is enhanced and that the impact of AAITG's work on the lives and livelihoods of people living in poverty is positive and meaningful.
Speaking earlier, Tango Director Ousman Yarbo stressed that communication is key in the development of any organization.
He expressed hope that the communication strategy when finalized would strengthen AAITG's relationship with its partners.
Meanwhile, at the closing ceremony, Mr Yarbo made a passionate appeal to media practitioners in the country to increase their reportage about the work of NGOs in The Gambia.
According to Mr Yarbo, NGOs are doing great work across the country and the media should go to the ground and report on their interventions.
"I appeal to you to go into the field and visit the communities yourselves and interview them about our work," he challenged journalists.
Mr Yarbo noted that the media has a responsibility to engage the NGOs since, according to him, they are putting in millions of dalasis into the country's development.
"We want you to be more aggressive in reporting the work of NGOs in the country," he remarked.
Mr Kebba Sima, AAITG Head of Impact Assessment and Shared Learning, said they have developed a new country strategy paper 2014-2017.
In this strategy, he noted, they have various organizational priorities and relevant strategic objectives which includes the communication strategy.
AAITG Head of Communications Jainaba Nyang-Njie, in her remarks, said communication is central to whatever the NGO does.
She disclosed that her office would continue to engage the media in their work, while seeking the support of journalists in the implementation of the communication strategy.
Read Other Articles In Article (Archive)