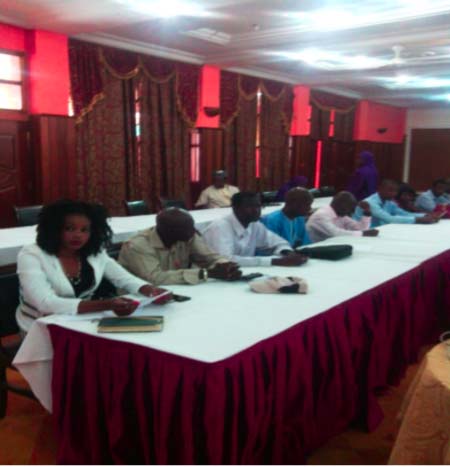 Stakeholders on Tuesday attended a day-long workshop to discuss technology needs assessment at a programme held at the Paradise Suites Hotel.
The workshop, organised by the Department of Water Resources, and UNEP, on behalf of the UNFCCC and the GEF, looked at Phase 11 of technology needs assessment (TNAs), with objectives that go beyond a narrow identification of technology needs.
The TNA project is to assist participants to develop, identify and analyze priority technology needs, which can form the basis for a portfolio of Environmentally Sound Technology (EST) projects and programmes to facilitate the transfer of, and access to the ESTs and know-how in the implementation of Article 45 of the UNFCCC Convention.
Delivering his opening statement, Ebrima Jawara, deputy permanent secretary, at the Ministry of Environment, Climate Change, Water, Forestry and Wildlife, said the current global TNA project, being derived from Window 1 of the Strategic Programme on technology transfer, is designed to support countries to carry out improved technology needs assessments within the framework of the UNFCCC.
Mr Jawara added that the TNA Phase 11 was initiated in November 2014 involving 26 countries in Asia, Africa, Latin and Central America and Europe.
It includes countries such as Jordan, The Gambia, Swaziland, Mozambique and Tanzania.
The project, which has attracted funding to the tune of US$120,000, has a two-year duration (July 2015 - June 2017).
According to DPS Jawara, The Gambia is therefore privileged to be among the selected few in Africa to have such a project.
"Therefore, it is imperative that as a country we work decisively towards the realization of this project," he said, adding that "this is not without teamwork on the part of the Technical Working Group, the National Consultative and the guidance of project steering committee".
Lamin Mai Touray, director of department of Water Resources, in his remarks on the occasion, said technology transfer has been under focus since the Rio Summit in 1992, where issues related to technology transfer were included on Agenda 21 as well as in Article 3, 4 and 4,7 of the UNFCCC Convention.
Read Other Articles In Article (Archive)