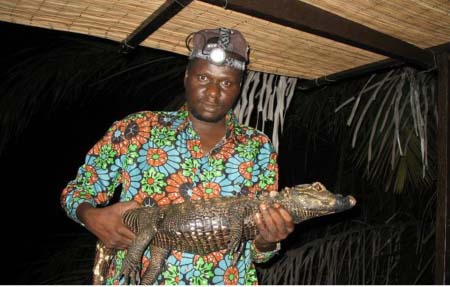 As part of sensitizing communities from the grassroots level, stakeholders recently attended a two-day workshop on illegal fishing practices and preservation of biological resources.
The gathering, which brought communities from Basse and its surroundings, was held at the Regional Education Office in Basse.
In his presentation, Mawdo Jallow, head of Research and Development Unit, Department of Parks and Wildlife Management, said wildlife means wild animals or species of birds which are found in The Gambia in a wild state and vegetation which is indigenous to The Gambia, adding that these grow naturally without cultivation.
Mr Jallow explained that biodiversity means variability among living organisms from all sources and it includes terrestrial, marine and other aquatic eco-systems.
The ecological complexes of which they are part, including diversity within species, between species and of eco-system means a dynamic complex of plant, animal and microorganism communities and their non-living environment interacting as a functional unit, he said.
Biological resource, he also said, means a genetic organism or other biotic component of eco-system with actual or potential use or value for humanity.
As regards conservation, he stated, this is the application of policies and programmes in the management of natural resources for human kind and for the long-term retention of natural communities under conditions which provide the potential for continuing evolution and at the same time maintain the potential to meet the needs and aspirations of the present and future generations.
Mr Jallow also dilated on the importance of elephant grass, saying elephant grass is tall grass that originally came from Africa in 1913.
It grows in dense clumps of up to 10 feet tall as thatch grass which is tiny tall grass mostly grown at the wetlands but the same family with elephant grasses also known as napier grass, marker grass and Uganda grass, he said.
The species is an important forage and pasture grass in its native Africa and throughout the tropics, especially for cattle, 
It makes good hay if cut when young but is too coarse if cut late in its annual growth cycle, he explained, saying it is usually made into silage of high quality without additives.
In Africa, he added, the plant is used for thatch, and the thick culms are made into fences, screens, and reinforcement for mud huts and the lines of plants are used to mark boundaries between plots and properties.
It was good for insulation because it absorbs heat, and it is used as fencing material and roofing, Mr Jallow said. "It was one of the most valuable forage, soil tillage and silage crops in the wet tropics," he added. 
Read Other Articles In Article (Archive)