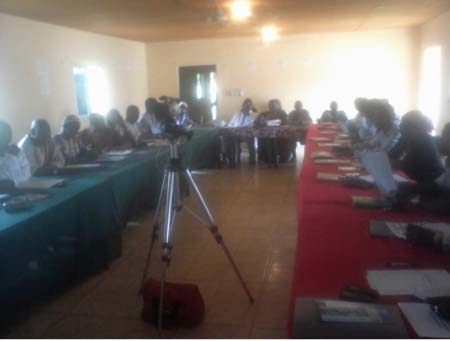 Child Protection Alliance (CPA) yesterday commenced a three-day training for councilors and senior officials of Local Government Councils on child rights and child-friendly budgeting.
The programme, sponsored by Save the Children International, was held at the Bwiam Lodge, in the West Coast Region.
Njundu Drammeh, national coordinator of CPA, said they had organised the training because each one of them would want a Gambia that is child-friendly.
He said the children are the future and needed to be prepared by investing heavily in them, adding that when children are healthy, educated and are able to partake in decision-making they could be assured of a brighter future.
He said they want to see how children could be well prepared for, more so that KMC and BAC have more children and adults.
Momodou Jaiteh, Deputy Mayor of KMC, said the workshop was very important because it was about the children, who are the future leaders of the country.
He said it is also about them as policy-makers and what plans they have for the children, adding that KMC and BAC have the greater population of children compared to other regions.
He added that investing in children is certainly the right thing to do, as it helps to prepare them for the future and against social instability and other ills.
According to him, the main issue that would be discussed at the training is child-friendly budgeting, which "is indeed very important".
It was not about having a separate budget for children but about ensuring that children's rights are factored in their budgets, he said.
He added that they are also very committed to the protection of children from all forms of abuse, violence and exploitation, adding that the Local Government Act 2002 clearly stipulates some of their duties.
Mamudou Keita, representing the Governor of West Coast region, said the interaction would help to understand better concepts such as child rights and child protection, and the core of training would examine child-friendly budgeting, a concept that is relatively new in The Gambia and in a number of countries around the world.
He said child-friendly budgeting if understood and utilised by the area councils would help greatly in meeting their developmental goals as municipality and regions and by extension as a country.
He added that it is a common knowledge that their budget is the outcome of systems and relationships through which the varying needs and desires of the people are addressed.
The training workshop, he remarked, is expected to equip them with relevant knowledge and skills to re-examine their format of budgeting to critically think and include projects and initiatives that ensure their children and families are adequately budgeted for.
Read Other Articles In Article (Archive)