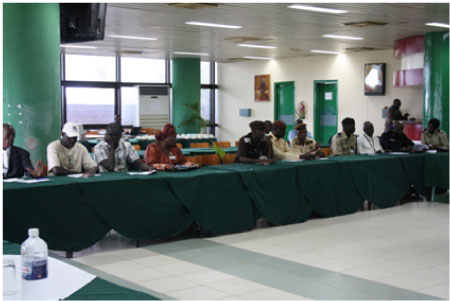 Stakeholders in the tourism sector on Monday discussed the 2012/2013 tourist season at a forum held at Banjul International Airport Terminal Building. The forum attracted airport personnel and Gambia Civil Aviation Authority staff.
The Gambia Tourism Board facilitated the forum in line with the Tourism Master Plan Document under its development plans for quality and standard services in the tourism sector.
In her opening statement at the forum, Fatou Mass Jobe-Njie, Minister of Tourism and Culture, said the forum is very important as part of preparedness for the winter tourist season.
She added that service delivery is the key issue of her Ministry, adding that quality service delivery will keep the tourists coming to the country.
Tourism Minister said last year the arrival of tourists has increased to 51 percent, and this year they hope it will increase more than that of last year.
She noted that the airport plays a very important role in the coming of tourists, while calling on those who are working there to continue their good work.
"What we do to the tourists when they arrive, and what we do to them when they going back is very important," she said.
Minister Jobe Njie appealed to all the security agencies to work collaboratively with the Tourism stakeholders, adding that when it comes to the area of checking the tourists' arrivals, it takes too long and she, therefore, appealed to the customs officers for their help.
She noted that the harassment of tourists cannot be tolerated, and is the responsibility of the Tourism Security Unit to make sure that tourists are not harassed by outsiders.
She single out the toilets facilities at the airport, which according to her must be kept clean at all times.
Benjamin Roberts, Director General Gambia Tourism Board, said this year they want to improve the services offered to tourists, and this cannot be done without the collaboration of all the stakeholders.
"We have to work together as a team, because service delivery is the key issue. Tourism cannot move further without the support of the stakeholders," he added.
Catherine Nying, deputy director general of Gambia Civil Aviation, said as the 2012 to 2013 peak period approaches there is the need to prepare, re-organize and reflect on what the service providers offer.
She noted that Gambia Civil Aviation Authority was established by the Public Enterprise Act of 1989. It is mandated to regulate and operate Banjul International Airport. "Our mission is to provide the best airport and air navigational facilities in the sub region."
Read Other Articles In Article (Archive)