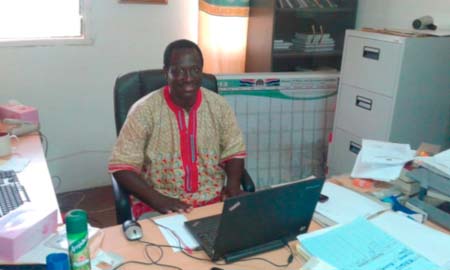 The acting Regional Education Director for Region 3 has underscored the need for communities and schools in the region to establish school farms to supplement school feeding programme.

Paul K. Mendy was speaking recently at Jokadou Tambana in the North Bank Region, during the ploughing of a 3ha rice farm by the community in response to the attainment of homegrown school feeding program.
He said the participation of the community in such an endeavor clearly demonstrates commitment in taking the lead to complement WFP School Feeding Program.
Community participation to spearhead the attainment of homegrown school feeding program is in conformity with the vision of the Ministry of Basic and Secondary Education and the World Food Program, of promoting the concept of complementing school feeding program.
The establishment of rice farms for the 2016/17 farming season for schools, signals the community's willingness to take over school feeding in the long run, the Regional education director said.
Mr Mendy thanked the community, the mother club of Tambana and St. George School of Tambana for their foresight and called on other communities and schools to emulate them.
He disclosed that the participation of communities would obviously contribute to Homegrown School Feeding, noting that there was food supply for the third term of 2016 academic year.
Director Mendy commended the leadership of Njawara Agricultural Training Centre for providing 50kilos of climate resilience rice variety to enhance food production and productivity.
He used the occasion to thank the Governor of the region, Lamin Queen Jammeh, for providing them with tractor to plough the 3ha rice farm for the school.
While calling on schools and local authorities to help popularize the concept and assist schools with needed resources, Mr Mendy also launched an appeal to the Department of Agriculture to support them with fertilizer.
Read Other Articles In Article (Archive)