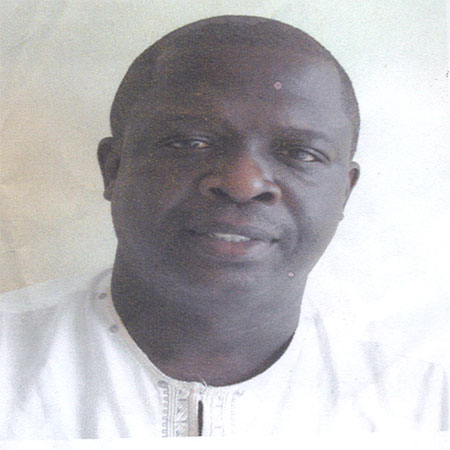 Hello and a warm welcome to yet another amusing edition of Personality of the Week, your weekly column aimed at bringing prominent Gambian top notches and achievers into the limelight.
As stated in our previous editions, this column has and will continue to bring you profiles of the giants in today's Gambia.
In today's edition, we bring you the profile of a man who needs no introduction in today's Gambia. He is a successful man, an erudite civil servant who is today one of the most respectful citizens in the Gambian society. He is Momodou O. Njie, the Deputy Permanent Secretary at the Department of State for Energy.
He began his journey into the business world from scratch climbing through the ladder, which has undoubtedly toughened him for life.
Having served in various positions in and outside the Gambia, this man has today positioned himself where every other serious minded citizen would love to be, achieving success in many different fronts. He has become a shining example of selfless service to humanity.
Having had his secondary education here in The Gambia he entered Viken FolkehogskoleGyovik in Norway and came out with diploma in Media and Public Relations. He continued at Gelmmen Videngeade Skole, Fredickstard in Norway where in obtained a diploma in Graphic and Media Communications in 1979. From there he continued at BellevueCommunity College in Washington in the United States of America and came out with A.A. after which worked at with University of Washington Teaching Assistance from 1982 to 1984, where he assists in the planning and co-ordinating of the Wollof Language at the Department of AFRO-AMERICAN studies, lecture and participated in the yearly programme. He was responsible for planning all programmes.
In 1984 Mr. Njie's passion in the pursuit of education remained unabated. He entered University of Washington and flew out with B.A in Political Science.
From 1984 to 1986 he worked with Atlanta Neighbourhood Housing Service as Economic Development Specialist.
From 1986 to 1988 he worked as an Administrative Clerk at the AtlantaUniversity.
Whiles working he enrolled in AtlantaUniversity and obtained a M.P.A in Human Resources Management in 1987.
From 1987 to 1990 he worked with Amoco Inc. as Assistance Manager before moving to Kroger as Customer Service Manager.
In 1993 Mr. Njie returned to The Gambia to contribute his quota in nation building, as he always say "Home is dearer".
From 1993 to 1994 he took up appointment with Mass Sosseh Shipyard as Administrative Manager. From 1994 to 1996 he was appointed as Assistant Secretary at the Ministry of Local Government and Lands. Because of his dedication coupled with a high sense of dignity and commitment to duty he was appointed by the Secretary General as Secretary to the Task Force on Discipline and Punctuality from 1995 to 1996.
In 1996 he was appointed as Secretary to the Commission of inquiry on Public Corporations where he served until 1999. From 1998 to 1999 he was Acting Senior Assistant Secretary, responsible of routine administrative cadre, Desk Officer for Immigration and Prisons matters at the Department of State for the Interior. He was also responsible of issuance of Passports, Secretary to the Prison Visiting Committee and the Counterfeit Currency Board and Secretary to the National Task Force on Security Sensitisation. He was moved in 1999 to the Department of State for Tourism and Culture as Senior Assistant Secretary up to before moving to the Department of State for Agriculture. In August 2000 he moved to the Office of the President as Senior Personnel Officer and later moved to the Department of State for Fisheries, Natural Resources and the Environment as Principal Assistant Secretary until 2005. From 2005 to 2008 he was the Deputy Permanent Secretary, Department of State for Forestry and Environment. Mr. Njie is currently the Deputy Permanent Secretary at the Department of State for Energy.
He had received Meritorious Services Award, University of Washington in 1984. Awarded for Academic Excellence in 1983.
The Office of the Minority Affairs, University of Washington also awarded him as the Outstanding Minority, in 1984.
Read Other Articles In Article (Archive)