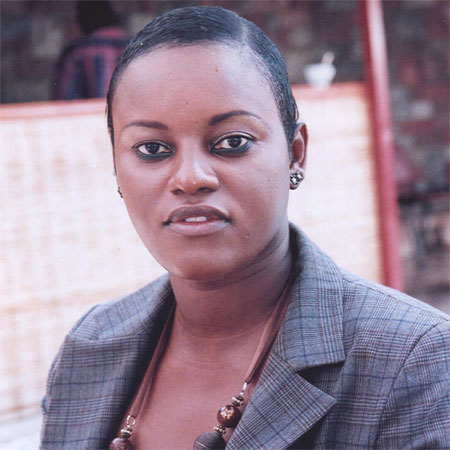 The world has entered a new era of communications, with rapid developments in ICT and newer innovations in Marketing and Public Relations. One might wonder if the Gambia is poised to keep apace with this cutting-edge trend. YES, says Fatou Camara, a veteran journalist and TV star, whose professional clout in this area commands everyone who cares, to listen. Fatou's authoritative ideas are no waste treasure; she has initiated and established a powerful Media and PR company, which is transforming fast into what could be Senegambia's first ever "Media Empire". Even local institutions and businesses with no corporate commitment to official publicity find it difficult to resist the enticing potency of services offered by I-Media, from TV and Radio advertisements, to documentaries, professional writing and editing, magazine and brochures production, printing as well as moderating official events.
In this rare and magnetic interview, Fatou speaks candidly about her penchant for competence and how she is getting the scoop.
POINT: Every height indeed begins somewhere. Can we go down to the genesis of your stint in publicity and PR?
FATOU: I assume most people know about my career in Journalism and Broadcasting, especially TV, of course after some training in the U.K.
Again, it is barely six months since I retired voluntarily as Protocol Assistant to the U.S Ambassador in Banjul, after three years in what I call "Diplomatic PR", which also went with very useful training overseas. So with a blend of these backgrounds, you may not be surprised that a private venture into publicity and PR is my eventual undertaking.
POINT: You are relatively new in the industry, but I-Media is striding ahead with unprecedented success. Is it your personality or the effectiveness of your services that is making the difference?
FATOU: It is both. Becoming a media celebrity is something, but not enough to work your way through to success. Professionalism is the real benchmark. That is the only way we have been able to make a difference in so short time. We are not into business only to attract customers and make profit; we also have a deep-seated interest to set the pace for professional PR in the Gambia. That is why we sometimes alter customers' ideas and advise them to go for something different, and at the end of the day, they come back to say they made more impact that they had initially expected.
POINT: Fatou is obviously the brand name of I-Media, but I'm sure there are others playing a part?
FATOU: Certainly. I am the CEO and effectively the think tank, providing the leadership, directing operations and managing the personnel. But we boast of a team of the best professionals from the Gambia and Senegal. Initially, this was the task I set for myself- to harness the best local potential available. In all the various services we offer, from advertising, printing, script writing and editing, to documentaries, magazines and brochures production, we work with highly trained and experienced specialists who are masters of the trade. This is why we can bid for contracts in even Senegal and win them.
POINT: Would one be right to consider the idea of publicity and PR a novelty in the Gambia?
FATOU: PR and publicity in any society could be as old as the society itself. What may constitute a novelty is the conventional methods employed in these areas. And far from being a necessity of market consumerism, publicity for example is a simple corollary of honest and decent competition. Yet in this time and age, no tangible endeavour, whether business or otherwise, can thrive without effective publicity or PR. That is how customers are naturally oriented and there is no other way round it.
POINT: But there are entities that shy away from publicity for either the cost or some other reason.
FATOU: It depends on why you are in business. If you are a backbencher contented with attaining limited business objectives, that's Ok. But if you are a reputable organisation or company with serious corporate identity, you must project a vital image and responsibility, if you have any. That's how you command public confidence. It's like the "publish or perish" principle at the university.
POINT: Finally, where do we expect to see I-Media in the medium and long term?
FATOU: We are overwhelmed by the success we have been able to achieve initially. First, we enjoy a broad customer base, spanning Gambia and Senegal. Again, we work with a cohort of professionals with unrivalled expertise in their various areas.
Above all, our products and services are widely acclaimed by customers themselves to be the undisputed best. For the medium and long term, we hope to extend our services to training, where we can partner with tertiary institutions and the media in producing talents that will serve the country's emerging communications and PR sector.
Read Other Articles In Article (Archive)