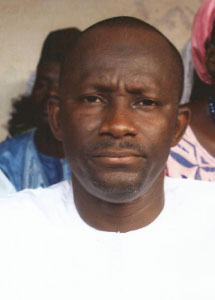 Welcome to another edition of Personality of the Week, the weekly column which profiles Gambians and non-Gambians alike whose contribution to the development of The Gambia should be celebrated.
In today's edition, we bring you the profile of a man who in today's Gambia is ranged as an accomplished and highly experienced parliamentarian by all standards.
He is Honorable Lamin Kebba Jammeh, National Assembly Member for Illiasa constituency in the North Bank Region.
Hon. Lamin K. Jammeh, an accountant by profession but currently a politician, is no doubt a symbol of success in parliamentary business.
Born on 18th February 1963 at Farafenni village in Upper Badibou District to the late Kebba Jammeh and Mrs. Aja Jonkong Marong, Hon. Lamin Jammeh began his educational journey at Farafenni and Campama Lower Basic Schools from 1969 to 1975, from where he did his senior secondary education at Saint Augustine's High School in Banjul. 
He sat to the O and A levels examination in 1981 and 1983 respectively before grabbing his first employment at the then Gambia Commercial and Development Bank as a clerk from 1983 to 1989.
From 1988 to 1989, Hon. Jammeh did his AAT level one and two courses at the Management Development Institute (MDI).
From the Management Development Institute, Hon. Jammeh worked with the Gambia Air Shuttle as an accountant from 1989 to 1990.
He continued his educational and professional chase at the Emile Woolf College in London, United Kingdom from 1990 to 1991.
Upon returning, Hon. Jammeh worked with the Accountant General Department as a computer programmer.
From 1995 to 1996, he held the position of Finance and Administrative Manager at the Gambia Family Planning Association.
In 1996, Hon. Lamin Jammeh moved from the Gambia Family Planning Association to join the VISACA promotion centre in Cape Point, Bakau as an accountant, where he worked until the year 2002.
From 2002 to 2007, he worked with the Banjul Travel Agency as an accountant.
He set forth his political career in 2007 when he contested the 2007 National Assembly elections under the ruling Alliance for Patriotic Reorientation and Construction (APRC) ticket defeating opposition United Democratic Party's (UDP) Kebba Lamin Jammeh and independent candidate Ebou Samba.
After serving a five year term as National Assembly Member for Illiasa constituency, Hon. Lamin K. Jammeh was early this year re-elected unopposed to serve another five year term as parliamentarian for Illiasa constituency.
"I went unopposed because the people of my constituency have realised that what I did for them during my first five year term," he told our columnist.
Having found his late father (Kebba Jammeh) and grandfather (Tamba Jammeh) in politics, Hon. Lamin K. Jammeh said he also joined politics to be part of the development process in The Gambia.
"The country has reached a stage where we have witnessed tremendous achievements in all sectors, thanks to the current leadership, because of this, I thought it right to also play my part in helping develop my constituency and on way of doing so is to be part of the development process undertaken by President Yahya Jammeh," Hon. Jammeh added.
"As a member of Tamba Jammeh family, we see ourselves as servants of the people and it is our responsibility to make sure our people's living standards are uplifted," he stated, noting that their involvement in politics is not due to position or to enrich themselves but to serve their people and make their living conditions better.
Among his contributions to the development of his constituency, Hon. Lamin K. Jammeh has over the years donated generously including computers to the Lower Basic Schools in the Upper Baddibou district.
He recently donated a 40 feet container to the Ministry of Health and Social Welfare for onward distribution to all the major health facilities across the country.
Currently, Hon. Lamin Jammeh is a member of the National Assembly select committee on Public Accounts/Public Enterprises (PAC/PEC); Vice Chairman Foreign Affairs Committee of the National Assembly; Defence, Security and Trade Committees and also the APRC deputy desk officer for North Bank Region.
Read Other Articles In Article (Archive)