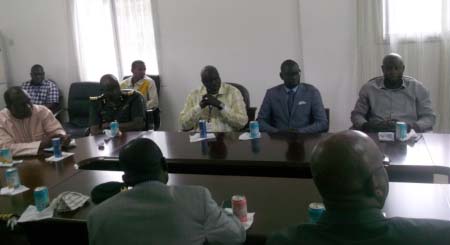 The Gambia Revenue Authority (GRA) yesterday led a delegation to the Senegalo-Gambian permanent secretariat to discuss ways and means the two countries, Gambia and Senegal, can meet their desired goals.

The delegation recognised "the great work" done by the secretariat in the smooth movement of people and goods within the two countries.
Speaking at the meeting at the secretariat conference room, executive secretary of Senegalo-Gambian permanent secretariat, Ambassador Paul Badji, said the secretariat's ambition is to reintegrate the relationship between the two countries.
"The two countries are one living in two states," he said but added that the two governments should respect the value of national sovereignty.
Ambassador Badji said their main goal is to maintain peace, stability and sustainable development for the two countries so that the future of Senegambia will be brighter.
Papa Ousmane Gueye, director general of Doualos Senegal, said they are always working on things that will interest the two countries.
He said they always work hand in hand with the two governments to foster the bilateral relationship between the countries.
Honourable Abba Sanyang, deputy executive secretary, Senegalo-Gambian permanent secretariat, said The Gambia and Senegal are one and no matter what they shall remain forever.
"The two governments should not do anything that will hurt the citizens the least," he said.
While thanking the delegation for the visit, Hon. Sanyang said they will also plan a similar visit to their Senegalese counterparts in the near future.
GRA commission of customs, Alieu Cessay, said as custom officials in charge of the movement of people and cargoes, it is their responsibility to pay a courtesy visit to the Senegalo-Gambian permanent secretariat to see how best the two countries can meet their dreams.
He thanked the secretariat for "the good work" they are doing in keeping peace and stability between the two countries.
Read Other Articles In Article (Archive)