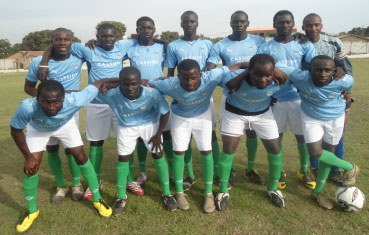 Sports Journalists Association of The Gambia (SJAG) was held to an energetic and breathtaking 1-1 draw with a Sarahuleh selection at the Serrekunda East Mini-stadium of a cheering crowd.
The well attended friendly was part of a fundraiser for the SJAG's upcoming national sports billed for July.
The rejuvenated SJAG squad under the captaincy of outstanding Allasan Mballow of Paradise FM Radio, who completed strings of world class saves particularly in the second interval to deny the Sarahuleh side some goal-scoring chances, were made to fight for an equalizer after they fell 1-nil behind thanks to a Ebrima Jagana's solo effort during an exhilarating first period.
The Sarahuleh selection continued to read out the pace of the game in the first period and could have found themselves more than three goals up but all their brilliant attacking options and dominance in the middle were not good enough to earn them a happy moment, which left them going into the second period with a 1-nil advantage.
They were instead punished by their poor-scoring ability when Babucarr Sey of Paradise FM Radio tapped home a late equaliser to bring the revived sports journalists squad back into the contest with a fine strike.
The match created a centre of attention for a teeming number of spectators due to some individual demonstration of skills from both sides and the introduction of stars like Amadou Wuyeh Manga of Unique FM and Alagie Fatty of West Coast Radio really paid off for the magnificent journalists group.
Cherno Omar Bobb of The Point newspaper sports desk was also introduced midway through the second period but was withdrawn without a delay for failing to impress the coaching staff.
His colleague at The Point newspaper Lamin Drammeh, who played 70 minutes of the encounter, could not prolong his impressive scoring spirit of fine form for the SJAG side, even though he has already bagged a total of four goals in six matches including a historic winner in the sports journalists 2-1 win over the Youth Ambassadors of Peace in the finals of the Late Fatou Mbye Memorial Football Tournament two years ago.
Read Other Articles In Article (Archive)