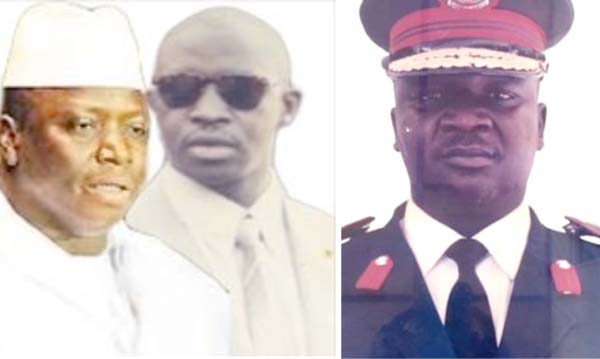 Colonel Babucarr Jatta, former Chief of Staff (CDS) of The Gambia Armed Forces (GAF) has insisted that the late Almamo Manneh and former State Guard Commander, Lt. Landing Sanneh, were indeed involved in a coup, arguing that he was the one that in fact saved Sanneh from being killed.

It could be recalled that Landing Sanneh during his recent interview on Coffee Time aired on West Coast Radio, claimed that it was he (Jatta) together with former President Yahya Jammeh, who went to his house to effect arrest on him with Jammeh ordering for his shooting.
But reacting to those claims, the Tujereng born, who walked into the studios of West Coast Radio to set the record straight, debunked Sanneh's allegation, saying Sanneh at the time was a Second Lieutenant. "So, why should I waste my time of arresting him when I can give orders for his arrest?"
Col. Babucarr Jatta, was the Chief of Staff of the GAF from 1994 to 2004. During the said radio interview, he explained that late Almamo and Sanneh were indeed involved in the coup, claiming that they initial had the tape.
He recalls: "Jammeh was going to Gabon and he was later alerted about the coup and he postponed his trip to Gabon and went straight to Kanilai. Jammeh later got the tape and I myself was put in the picture about the attempted coup. I can tell you that it was the soldiers at State Guard that went after Sanneh."
According to him, it was Musa Jammeh, Ousman Sonko, and others that went in for Sanneh and Almamo Manneh. "However, it was Sanneh that threw a grenade at them and in return the arresting soldiers shot him. He was bleeding and taken to Yundum Military Barrack. I was the one that instructed the soldiers at the Yundum Barrack to make sure that they stop the bleeding. I in fact, told WO2 Sarr that if he didn't stop the bleeding I was going to dealt with him seriously."
Jatta added that he (Sanneh) would have died if he didn't intervene and ask WO2 Sarr to stop the bleeding.
"In fact, I recommended to former President Yahya Jammeh that he (Sanneh) should be taken to court so that the entire world could believe that it was a coup. I can tell you that I saved Landing Sanneh's life. If he is lying, Pierre Mendy is the Battalion Commander of 1st Infantry Battalion, let's talk to Pierre."
He said: "I'm not in to that nonsense and I am not Sanneh, a warrant officer who participated in a coup and got promoted to an officer. His promotion is because he did participate in the July 1994 government takeover but not any other thing."
Babucarr Jatta, claimed that he was the one that protected the mass grave, saying even Sanna B. Sabally, the former junta vice chair knew about that. "Landing Sanneh once killed his own son when he was reversing back with his vehicle. Why should he not be arrested? I can tell you that because order was given from the top or else we were going to arrest him."
Landing Sanneh and Almamo Manneh, he went on, were untouchable during those days for the fact that they were protected by Jammeh. He revealed that Sanneh one time even shot a Nigerian national, saying "the Nigerian national cross at Jammeh's convoy. I charged him but at the end, nothing happened because he even refused to give out his statements."
The former President Yahya Jammeh, he explained, later got fed-up with Sanneh and Almamo. "We were later signalled about an attempted coup. I informed Jammeh about it and he (Jammeh) said maybe because I didn't like Sanneh and Almamo and maybe because the information didn't come from the then National Intelligence Agency."
Read Other Articles In Article (Archive)