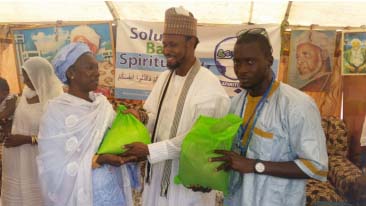 Solution Bay Spirituality Movement, a movement set up to help the indigenous and contribute to national development, on Saturday gave food items to less privileged Muslims in honour of the Ramadan.

The movement, initiated by a Senegalese based and married in The Gambia, has been in existence for the past two years.
It has 33 members in The Gambia and 15 in Senegal and also have members in different parts of the world.
Omar Dodou Mbye, chairperson of the movement, said the rationale for forming the movement is to help humanity.
He noted that although giving out gifts could be done in any other month, they prefer it in the Ramadan because it is a blessed month with lots of rewards for helping the less privileged.
He said the purpose of the donation is to share with the less privileged for the sake of God and for the sake of the sacred month.
Mr Mbye explained that the movement is also involved in environmental protection by way of tree planting.
"We have planted 2,000 trees as part of our efforts to take care of the environment," he said.
Last year December, the movement in collaboration with the Gambia Fire Service donated blood to Serekunda hospital.
Hawa Sey, a resident of Bakoteh, expressed gratitude and appreciation to the movement for the Ramadan gifts, saying it could not have come at a better time.
"I thank you so much for this kind gesture," she said while praying for Allah's blessings to the movement.
Penda Touray, a native of Kerr Sering, said: "I am very happy to receive this package and I want to thank the movement for the gesture."
Read Other Articles In Article (Archive)