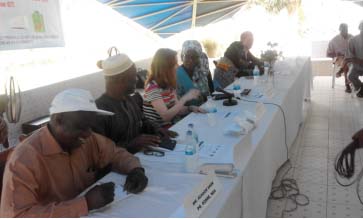 The National Environment Agency (NEA), in collaboration with the Gambia Technical Institute (GTTI) and United Nation Industrial Organisation (UNIDO), has conducted a five-day training workshop on hydrocarbons and carbon dioxide for refrigeration and air conditioning technicians.

The training, held at GTTI, was aimed at reducing greenhouse gas emissions associated with industrial and domestic refrigeration and air conditioning.
Speaking on the occasion, Agi Binta Kinteh of NEA, said the importance of refrigeration equipment to many manufacturing processes and other economic activities has led to the general increase in its usage.
She said this growth has led to the general increase in the quality of refrigeration units and consumption of all classes of refrigerants including HCFCs, a second hand equipment that is no longer allowed in developed countries but easily finds its way in developing countries.
According to Mrs Kinteh, the increase use of refrigeration will lead to routine equipment updates or new installations, and owners are currently likely to favour the use of HFCs that have very high global warning potentials.
"The Gambia looks to minimise the use of chemicals damaging to the ozone layer, and operate with greater energy efficiency and use chemicals with low-GWP," she explained.
"Therefore, as we anticipate the adoption and use of low ODS alternatives and low-GWP refrigerants, the interim focus needs to be on establishing and testing the mechanisms for technology transfer."
Jahou S. Faal, director of GTTI, said climate change adaptation and mitigation policies have increasingly become critical drivers of change for societies, economies and enterprises.
The growing importance of environmental conservation and the pressure emanating from the agreed environmental protocols obliges each country to shift to low-carbon, climate resilient and sustainable model of generating its energy needs.
She said it is therefore imperative to reflect on these goals in the training and skills sector which are deemed to be vehicles of change and are pivotal for the achievement of the goals.
Madam Katinka, a representative of UNIDO, told the participants that they also have the biggest responsibility to towards the environment.
Read Other Articles In Article (Archive)