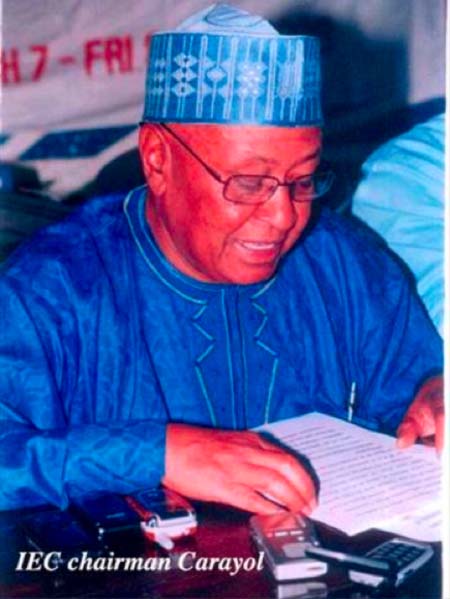 The Independent Electoral Commission (IEC) will today 14 January 2016 commenced a supplementary voter registration, according to IEC chairman Alhaji Mustapha Carayol.
The exercise is part of preparations for the electioneering process in The Gambia in line with the electoral calendar covering 2016 through 2018.
The commission has prepared voter registration officers to conduct the exercise, which would run from 14 January to 12 March 2016 including Saturdays, Sundays and public holidays.
The purpose of the supplementary registration of voters is for those who have newly turned 18 years or would be 18 years old by 1 December 2016.
It is also meant for those who are 18 years or more, but missed the last general voter registration because they were not in the country.
Those who registered in the last general voter registration in 2011 must not register, the IEC has emphasised.
According to the Elections Amendment Act 2015, there is no transfer of voting cards.
However, there is provision for replacement of voting cards and this would go on concurrently with the supplementary registration of voters.
The IEC chairman announced at a recent press conference thatthe Presidential Election will be held on Thursday 1 December 2016, the National Assembly Elections on Thursday 6 April 2017 and the Local Government Elections on Thursday 12 April 2018.
"One could go to where one got registered in 2011 if one's card is lost, damaged, mutilated or defaced for replacement at a cost of D100," the IEC stated.
On qualifications to register, the provision on the "five elders of any locality attesting for the citizenship of any person" has now been removed from the law, according to the Elections Amendment Act 2015.
According to the IEC chairman, there is a penalty attached for double registration which is a prison term of two years and/or a fine of D25,000 and the person or persons barred from any electoral activity for ten years.
"A complete and accurate voter's list is the starting point of a credible election, which prevent voters from voting more than once and unregistered voters from voting," said the IEC chairman.
The election amendment Act has now increased the number of constituencies from 48 to 53.
Read Other Articles In Article (Archive)