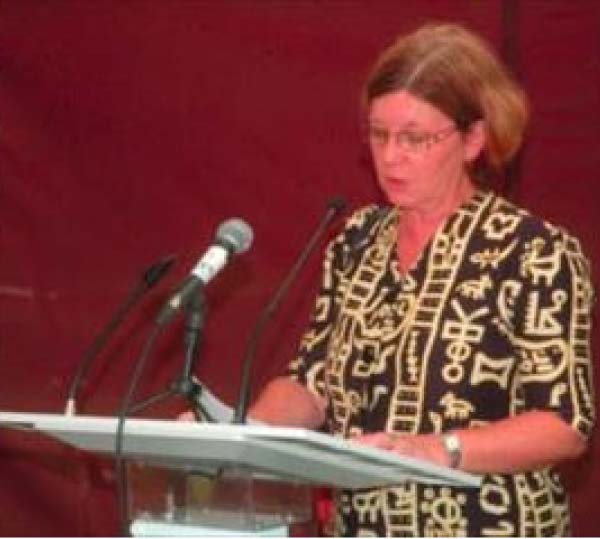 International Day for the Elimination of Violence against Women
Tuesday 25th November 2014
I am very pleased to see that you have joined us today to celebrate the International Day for the Elimination of Violence against Women. The fight for the elimination of violence against women is of high priority for The Gambia (and especially of Her Excellency the Vice President) as well as for the European Union. Although considerable progress has been made in many countries, we should not allow ourselves to get complacent when it comes to the protection of women's rights and the elimination of all kinds of violence against women.
It is important to acknowledge that violence and abuse affect women from all layers of our society every day. Up to seven in ten women around the world report having experienced physical and/or sexual violence at some point in their lifetime; not to mention psychological violence.
Violence knows no geographical, cultural, social, economic or educational boundaries. It is a phenomenon that affects all societies, everywhere in the world and on all continents, and takes many gruesome forms: from domestic violence, rape and sexual harassment to female genital mutilation and forced and early marriage.
Violence against women is one of the most pervasive violations of human rights in the world. It is also one of the least prosecuted crimes, and among the greatest threats to lasting peace and development in the world. It is a violation that claims millions of victims every year and causes terrible physical and emotional pain.
If we want our societies to prosper, it is an absolute necessity to foster the opportunities of all women - if women prosper, societies prosper! Women's social and economic contribution is much needed in any country in order for growth rates to increase and development to flourish. Violence and degrading treatment of women impedes the economic development all over the world.
Therefore, we must not only help prevent violence but we must also work to empower women and provide them with access to economic opportunities, to ensure their equal participation in public life, repeal laws and practices discriminating against women, and ensure that homes, offices, streets and schools are safe for women and girls.
Often deep-rooted social and cultural attitudes mean that most victims suffer in silence with little or no recourse to justice or support. One way of changing such gender stereotypes, degrading attitudes and prejudices is to educate people and teach them to stand up against any kind of violent and discriminating behaviour. The Gambia, even though it is a small country, is filled with exceptionally brave women and men who advocate women's rights and fight every day to eliminate violence against women, first among them are Her Excellency the Vice President and Mme Zeinab Jammeh, the First Lady with the strong support of His Excellency the President. I am very pleased to see that many of these remarkable women and men are here with us tonight.
We can all contribute to the elimination of violence against women. Every single one of us! It is important to break the silence and open up the space for discussion at all levels. A good example of this is 17-year-old Malala Yousufzai from Pakistan, who is fighting for girls' education. She received the Sakharov Prize from the European Parliament in 2013 and the Nobel Peace Prize in 2014 for her commitment to this cause. Dr. Denis Mukwege is another example of a remarkable man, who has dedicated his life to helping female victims of rape in the Kivu province of the Democratic Republic of the Congo. In 2014 Dr. Mukwege was the laureate of the Sakharov Prize and last year, he was awarded the prize of the Jacques Chirac Foundation for conflict prevention for his efforts. These advocates put their life in danger when they raise their voices to fight for women's rights and contribute to a more fair and free world.
When a husband can batter his wife while enjoying complete impunity; when millions of women and girls are trafficked in modern-day slavery; and when women's bodies are a battleground and rape is used as a tactic of war – it is time for action!
Violence against women and children has tremendous costs to communities, nations and societies. Moreover, it negatively affects public well-being, school achievement, productivity and thereby the overall performance of a country. If left unaddressed, such human rights violations pose serious consequences for current and future generations and for our efforts to ensure peace and security, and to reduce poverty in the world.
I am pleased to see how progress has been made in this field in The Gambia. The National Assembly has passed the Domestic Violence and Sexual Offences Acts in December 2013. These two Acts are of high importance in addressing violence against women and girls in The Gambia.
Strong political and institutional support is essential for a proper implementation, effectiveness and applicability of these legal texts. A woman who is beaten by her husband must have somewhere to go with her children to enjoy safety and shelter. A victim of violence must have confidence that when she files a police report, she will receive justice and the perpetrator will be punished.
The European Union, in partnership with the United Nations, has made protection against gender-based violence a key feature of the EU's Human Rights Strategy. Thereby, we have cleared the way for better cooperation between the EU and its development partners in order to ensure that women's rights and violence against women remains at the top of the development agenda. We will continue to fight for women's rights in the future and I am looking very much forward to working together with many of you in order to eliminate violence against women.
Thank you for your attention!
Read Other Articles In Article (Archive)