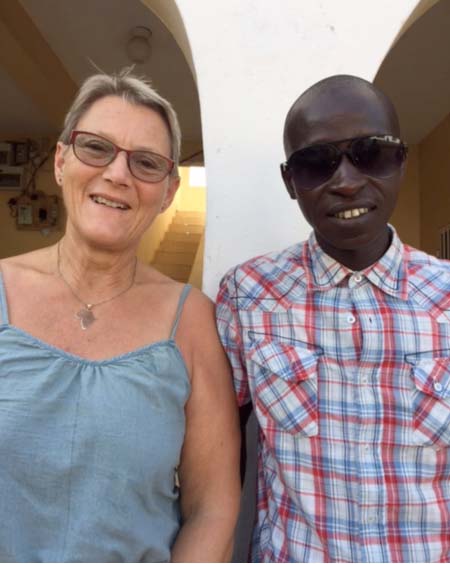 SOS-Gambia, a charitable foundation based in Denmark, in partnership with Foundation for Needy Gambia (FON-Gambia), is embarking on a two-week bursary payment for 200 students across The Gambia. The students comprise those from nursery to senior secondary school.

The bursary programme is an annual activity of the two foundations to pay the tuition of the students they sponsor in The Gambia.
The national coordinator of FON-Gambia, Omar MJP Ndow, explained that every year, the chairperson of SOS-Gambia in Denmark, Susanne Peteisen, and her team travel to The Gambia to make payment to the students being sponsored by the foundation.
Mr Ndow said the event does not only focus on bursary payment but also offer support to other projects all over The Gambia.
"Now that students in Gambia do not pay school fees, what we do is to give some cash to the parents to take care of some of the needs of their children. The money we give them is to buy uniforms, books, school bus fare, and other educational expenses," he said.
Mr Ndow commended Madam Susanne, chairperson of SOS-Gambia in Denmark, for her continuous support to The Gambia.
He said this year, the foundation has come up with two projects - building a store and toilets for girls and boys, and a technical department to offer construction, architectural designing, and electrical installation along side other academic courses.
He said Gambians "really appreciate" the contribution of the Danish foundation for it has been helpful to Gambians not only in paying the tuition but also coming up with projects to help the youth not to risk their lives to Europe through the Mediterranean Sea.
For her part, Susanne Peteisen of SOS–Gambia said she has been coming to The Gambia since 2004.
She had served as a volunteer nurse for six months at the Serekunda health centre in Kanifing. It was upon her return home to Denmark that she decided to form a foundation to help The Gambia, particularly children.
The foundation started by mobilising fund from her friends, family, partners to sponsor few children. Today, the foundation sponsors 200 students from nursery to senior secondary school across The Gambia.
Madam Peteisen said her foundation had built a skills training centre in Tujereng last year to help the youth of the village and other neighbouring villages to acquire skills to be employed or be self-employed and be productive in the future.
She said the new direction of the foundation is on skills training, not the usual sponsoring of students, to help more young people to acquire skills.
Read Other Articles In Article (Archive)