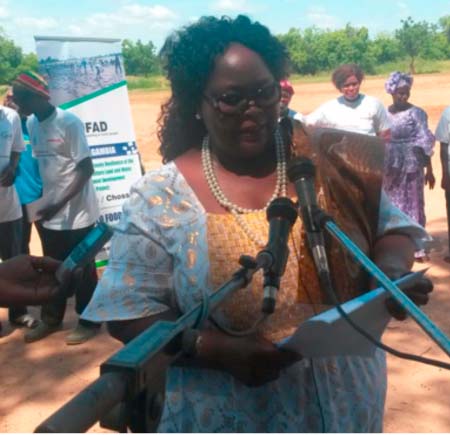 The Food and Agriculture Organization (FAO) of the United Nations in collaboration with the Gambia government, farmer organisations, civil society organisations and UN System in The Gambia Saturday 16 October 2016 joined the rest of the world to celebrate World Food Day in Janjangbureh, in the Central River Region.

The theme for this year's celebration is: "The climate is changing. Food and agriculture must too."
The day provides an opportunity for all stakeholders to refocus efforts and partnerships as they work towards mounting an immediate and comprehensive response to climate change.
In delivering a statement on the occasion, FAO country representative Dr Perpetua Katepa- Kalala said this was a day of action against hunger.
World Food Day 2016 is not a day for reflection; it is a day for action, she said, adding that, this year, World Food Day was devoted to analyzing how food and agriculture should evolve in order to face the impacts of climate change.
FAO country official also indicated that Rural Women's Day is celebrated every year on October 16 to honour and appreciate the role of rural women in society.
It recognises rural women's importance in enhancing agricultural and rural development worldwide, she said.
According to her, this year's theme for the World Food Day was also highly relevant to the sustainable enhancement of rural women's livelihood.
Dr Kalala further stated that the threat of climate change continues to mount every single day, and global average temperatures are increasing and new records are registered almost every year.
Kalala also said climate change is a fundamental threat to global food security, and it is already undermining crop yields in many parts of the world.
Rising temperatures, changing rainfall patterns and extreme weather events are affecting their ability to produce the food needed.
She said the intergovernmental panel on climate change predicts that yields for staple crops such as wheat and maize could decline dramatically by 2050.
The most vulnerable people are the world's poorest, 70 per cent of whom depend on subsistence farming, fishing or pastoralism for income and food.
She also asserted that without concerted action, millions more people could fall into poverty and hunger, threatening to reverse hard-won gains and placing in jeopardy the ability to achieve the Sustainable Development Goals.
For this reason, she went on, agriculture and food systems must become more resilient, productive, inclusive and sustainable, to bolster food security in a changing climate.
Countries must address food and agriculture in their climate action plans and invest more in rural development.
The FAO country representative commended the Gambia government for its strong commitment towards agricultural development, food security and women's empowerment.
"We recognise the high political will and efforts in the quest to attain national food security, as well as economic and social development in the country," she added.
In his welcome remarks, the Governor of Central River Region, Omar Khan, commented on the importance attached to celebration of the World Food Day, saying it is an occasion to reflect on viable opportunities to help strengthen efforts and solidarity in the fight against hunger and malnutrition.
Over the years, they have seen some clear changes in the pattern of rainfall, environmental degradation, among other efforts in raising the development of agriculture, in particular, thereby making small-scale farmers to ensure food sufficiency.
He also stated that the theme outlines the need for agriculture to adapt to climate change in order to feed the global population in a sustainable manner.
Read Other Articles In Article (Archive)