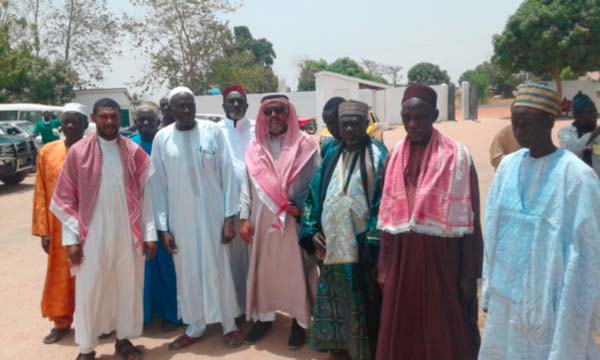 HabibullHudah School and Memorization Centre with support from Muslim World League Holy Quran Memorisation International Organisation on Sunday distributed 40,000 copies of holy Qur'an to Arabic schools, Imams, mosque and individuals in North Bank and Central River Regions.

The presentation ceremony held at the school grounds in Samba Kala in Lower Nuimi North Bank Region, also witnessed the recitation of the holy Qur'an by students of the school.
The proprietor and founder of HabibullHudah School and Memorization Centre, Sarko Njie, spoke of the need for schools and individuals to support the teaching and learning of Islamic education to bring about sustainable development.
He thanked the donor for their foresight and support in strengthening Islamic education and called for concerted effort of all stakeholders to inculcate good moral value among children and individuals on the teaching and learning of the holy Qur'an.
Saleh Salem Omar Bambairouk of Muslim World League Holy Quran Memorization International Organization of Saudi Arabia, said his association was committed to the promotion and strengthening of Islamic education and bringing worshippers closer to God.
He called on beneficiary institutions to be steadfast in providing quality education and positive behaviour change as enshrined in the holy Qur'an.
Governor Ebrima K.S. Dampha lauded the donor in complementing government's efforts at promoting and strengthening Islamic education and called on parents to support the school.
Chief Jimfatma Jobe of Jokadu commended the donor for the generosity, saying the donated copies of Qur'an would strengthen teaching and learning at the centre.
He praised the proprietor for promoting memorization and learning of the holy Qur'an.
Cadi Modou Lamin Kah and Ebrima Sey of Supreme Islamic Council, echoed similar sentiments, saying the books would strengthen human resource development on Islamic education and complement the efforts of the Supreme Islamic Council.
Baba Suwaneh, Cluster Monitor General Secretariat for Arabic and Islamic education AMANA under the Ministry of Basic and Secondary Education, said the institution has promoted bilingual system in all Madarasa schools across the country.
He expressed concern on the low retention of students from 9 per cent in Upper Basic to 1 per cent in senior secondary schools.
Imam Alieu Jallow of Kerr Mama thanked the management and staff of the school for propagating the teaching of Islam, noting that building the capacity of students on memorization of holy Qu'ran would obviously increase knowledge base on Islamic education.
Speaking on behalf of parents, Lamin Queen Jammeh of Sitanunku, lauded the management and teachers for upholding the attainment of quality teaching and learning and by extension to quality education.
He noted how spiritual knowledge links man to his creator and called on parents to fulfill divine responsibility to bring up their children in the right way.
Jammeh thanked the Islamic scholars for their invaluable contribution to the inculcation of Arabic knowledge and converting non-Muslims to Islam.
Read Other Articles In Article (Archive)