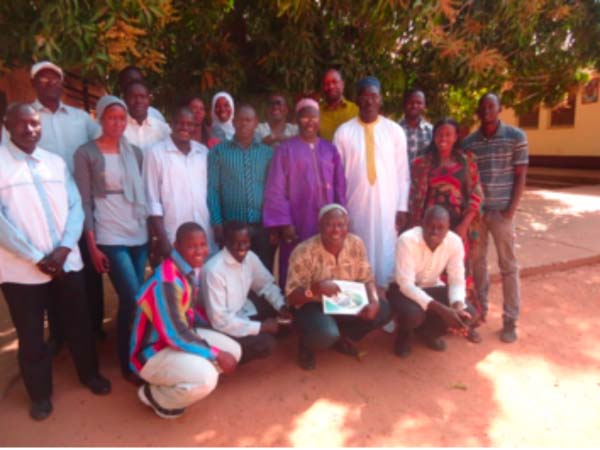 The Governor North Bank Region has praised Solidarity for Agriculture, SOLIDAGRO a Belgian NGO, for partnering with the Njawara Agricultural Training Centre, ADWAC in Gambia, the West African Association for Marine Environment, WAAME, and Action Youth and Environment, AYE, in Senegal in complementing food security and environmental protection in The Gambia and Senegal.
Governor Lamin Queen Jammeh was speaking at a three-day technical review meeting of partner organizations to review the achievements and challenges in the implementation activities in 2014.
The interventions would complement the efforts of the governments of Senegal and Gambia in their drive to promote attaining food self-sufficiency, Governor Jammeh said, adding that the Gambia government has recognized the enormous interventions in improving lives and livelihood of farmers.
He lauded Belgium Cooperation and SOLIDAGRO for their support to Senegambia integration and in the quest to attain food self-sufficiency.
The NBR Governor said the project intervention is in line with the development priorities of the African Union and by extension enhances commercialization in food production.
The move would contribute to normalcy in the free movement of people and services to facilitate timely staff movement in project execution, he also said.
 Dodou Jallow, SOLIDAGRO country representative for Gambia and Senegal, said the technical review meeting is key in the project document, and was the first to be held in The Gambia.
He disclosed that the project would spend millions for a period of three years, from 2014 to 2016, for 56 communities in The Gambia and Senegal in the areas of environment protection, food security, literacy, water and sanitation and land rights advocacy.
The project would contribute to enhancing economic and social status of farmers to enhance food production, Jallow added.
The SOLIDAGRO country representative applauded the partner organizations in promoting community participation in the implementation of the project activities and networking.
 He commended the Governor's office for their support to the project partners in The Gambia to bring meaningful development.
  He launched an appeal for the Governor's office to support the project staff with easy passage in Gambia to ensure timely implementation.
 Mamsamba Joof, Executive Director of ADWAC, and Mama Manneh the Director of Njawara Agricultural Training Centre, both thanked SOLIDAGRO for the trust and confidence bestowed on them in the implementation of the project.
The officials noted that it would promote environmental management, food security and foster greater understanding among project partners in the attainment of project goals.
They assured all of their support in the successful implementation of the project, and hailed the SOLIDAGRO country representative for his invaluable support and cooperation in the project implementation.
 Abdoulie Jammeh, Director of West African Association for Marine Environment, WAAME, said the technical meeting would help to share best practices in project implementation, and strengthen partnership building between the two sister countries.
He said the inter-country meeting would also accelerate project implementation. 
Read Other Articles In Article (Archive)