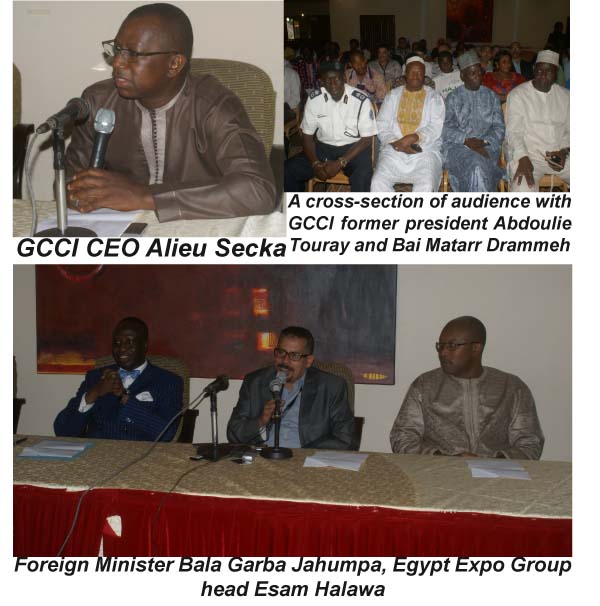 The Gambia over the years has been steadily reaching out to the world to accelerate its economic growth and development. In this drive, many institutions have been set up or encouraged to establish and operate both in the public and private domain.
For example, the Gambia Investment Promotion and Free Zones Agency (GIPFZA), now called the Gambia Investment and Export Promotion Agency (GIEPA), was set up by the Gambia government to attract investors and encourage investment in the country. About four years ago the American Chamber of Commerce (AmCham) also emerged to foster trade and investment between The Gambia and the US.
Among others, there is the Gambia Chamber of Commerce and Industry (GCCI), the umbrella body of the Gambia private sector, which has been at the forefront of this drive over the past 40 years.
In continuing to execute its business of serving the business community in The Gambia and contributing to growing the national economy, the GCCI, in collaboration with Africell, a leading GSM company in the country, facilitated an Egyptian Exhibition currently under way in The Gambia, at the Paradise Suites Hotel, to promote intra-Africa trade and South-South cooperation.
Launched on 3 September 2014 at the Pencha Mi Hall of the Paradise Suites Hotel in Kololi, the 12-day exhibition spearheaded by Egypt Expo Company from Egypt, is showcasing the products of the Egyptian people and businesses.
And the good that this exhibition has for the Gambian entrepreneurs and businesses is far beyond just seeing the beautiful creation of another African country. It lends itself to building more bridges, partnerships, trade and investment relationships and bilateral cooperation between the two countries.
"The aim of the GCCI is building bridges," says GCCI Chief Executive Officer Alieu Secka, in explaining the merits of such an exhibition.
"When we talk about building bridges, is about bringing companies together - not only in The Gambia but also internationally - so that we can introduce our local businesses to international ones. It is also about introducing the public to the Egyptian products and services; so we are particularly pleased that the Egyptians are here."
It is believed business makeup such as the Egyptian Exhibition would expose countries to each other and help businesspeople to learn from it in the process.
Abdoulie Touray of Sahel Invest, a former president of GCCI, said the exhibition would expose Egypt to Gambia and Gambia to Egypt. It would also help business operators to see the range of products that are manufactured in Egypt.
"Interestingly the quality of the batik [in the exhibition], which is handmade and quite elaborate and is of standard; our tourism batik women can learn from the Egyptian exhibition and try to take their batik to the next level in terms of international standards, for appeal, for style and for affordability."
Mr Touray says further: "What is being promoted now is south-south cooperation and intra-Africa cooperation, because the problem with Africa is that we trade with everybody else but ourselves; so by having Gambian public being exposed to what is available in Egypt gives them an avenue to trade among ourselves so that we can regain some of our very scarce foreign exchange."
Another good such an exhibition has for the Gambian business community is succinctly explained by the current president of the GCCI, Muhammed M. Jagana.
"The Egyptian Exhibition is an opportunity for Gambians to expose to international partnership and see what other people are doing so that we can benchmark our services and our products towards the international markets.
"And it is good for a country to have a trading partner, although it would be much of an advantage for Gambia to develop our export base maybe this would help us also to learn certain things from our partners within Africa – what they are doing, how they are improving their standards; so that we can use that to improve our own standards also."
Gambia's Foreign Minister Bala Garba Jahumpa, in launching the exhibition, stated: "This is what Africa needs, since such an exhibition will promote trade, business and economic development between the two African countries. It will also promote partnership between the two governments."
Since we live in a global village, the GCCI believes the Egyptian exhibition is nothing more than giving Gambians access to production services that are nonexistent in the country.
"We are hoping by having such opportunities, Gambian businesses and entrepreneurs would see the opportunities of production and may even be encouraged by the Egyptian businesses to get into production. So, we are giving Gambians access to production services that we do not have, as well as perhaps to learn from experiences and to see how we can cultivate our own products and services," he states.
Opportunity makes a successful entrepreneur
Seeing , they say, is believing, and if the Egyptian goods, such as their textiles, furniture, cutleries, cosmetics and foodstuffs, that are presently being showcased in The Gambia, are manufactured, packaged and marketed by Egyptians through well planned and managed business establishments and partnerships, the same couldbe done by Gambian entrepreneurs.
"What we have to do is industrialise; we have to start adding value and we have to start exporting and creating more entrepreneurs," says Sahel's Abdoulie Touray, a leading light in the realm of economics and development.
In his call on Gambian entrepreneurs to take advantage of such opportunities, GCCI's President Muhammed Jagana, says: "I think it is just an opportunity for businesses to come and see what is happening all over the world, to see that you can develop your own businesses.
"All of these industries [at the Egyptian Exhibition] are locally developed in Egypt. They may have the population of over 80 million but I think what we Gambians need to look at is how or where can we reach in terms of our production services. I consider the population of The Gambia not 1.5 but about 30 million people, considering our position in terms of reaching other countries across West Africa."
Read Other Articles In Article (Archive)