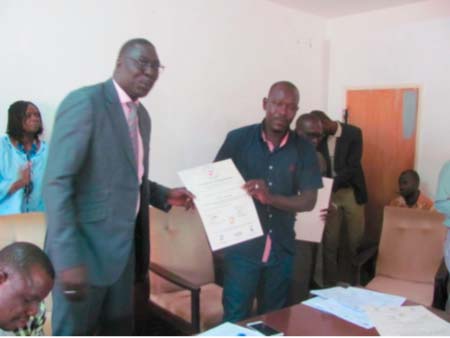 The Ministry of Trade, Industry, Regional Integration and Employment (MOTIE) handed over certificates of Hazardous Analysis and Critical Control Point (HACCP) to 5 SMEs as well as certificates of participation to other institutions and individuals in the training programmes.

The handing-over ceremony was held at the MOTIE on Thursday in Banjul.
Speaking at the ceremony, the Deputy Permanent Secretary of MOTIE, Fatim Njie, said that over the years, the Trade Ministry has been striving to assist enterprises to meet HACCP requirements to help them secure access to overseas markets for their exports.
"Recognizing the relatively small size of the domestic market in The Gambia, significant growth in the economy would benefit from sustained export development. However, the main export constraints as identified in the diagnostic trade integration study include meeting overseas market requirements," she said.
In order to satisfy food safety in production, processing, transport and distribution of food products, this Ministry through the Enhanced Integrated Framework had identified food processing enterprises and trained them under the HACCP process, after long process of the training and conducting HACCP audits with the assistance of international certifying bodies, as five enterprises complied with HACCP code 2003.
"I hope that these enterprises will make the best use of their certification and exploit market opportunities," she said.
In his address at the ceremony, Trade Minister Abdoulie Jobe said the HACCP process was driven by the Ministry through agro-sector specific support for cashew nuts, groundnuts and sesame under the Enhanced Integrated Framework (EIF) sector competitiveness and export diversification project implemented by the International Trade Centre (ITC).
"I must confirm that this is a landmark achievement in the history of international trade in The Gambia as this is the first time Gambian enterprises are able to reach HACCP certification. The aim is to secure new export opportunities; product diversification; improved value-addition; quality enhancement and strengthening sector support institutions to improve incomes of farmers and firms along the value chain."
Minister Jobe added that the HACCP system brings numerous benefits to these enterprises such as risks of processing and selling unsafe products for human consumption and risk of accidental contamination which will in turn generate consumer confidence.
He said being HACCP certified will also bring the benefit of complying with local and international requirements for target markets on food, health and safety "since many countries have adopted HACCP in their food regulations as mandatory requirements to access their markets".
"I urge enterprises to take minimum advantage of the HACCP certification and exploit further market access opportunities and urge the trainers cum counselors who have been trained to promote and sustain the HACCP implementation in ensuring that other Gambian enterprises are able to benefit from this type of training," he said.
The Trade minister also thanked the International Trade Centre for their cooperation and assistance in taking Gambian enterprises through the HACCP certification process.
Read Other Articles In Article (Archive)