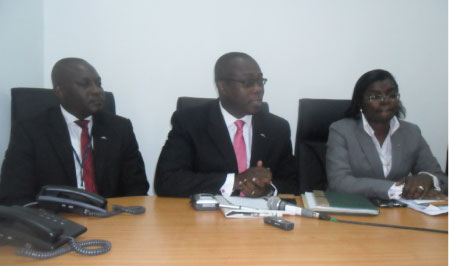 The Managing Director/Chief Executive Officer of Skye Bank Gambia Limited, Akim Yusuf, accompanied by senior officials of the bank on Tuesday presided over the opening of a new Skye Bank branch in Banjul.
Speaking on the occasion, Mr Yusuf said: "Skye Bank Gambia Limited received its licence on July 3rd 2009 and we commenced operations ten days later."
He said they initially started with a capital of between D87m and increased to D185m as at the end of December 2010.
This was consistent with Skye Bank plans to capitalise above the minimum requirements, MD Yusuf said.
 In 2009, he said, they started with D87m when capital requirement was D60m and last year they raised it to D185m when the requirement was D150m.
"We just want to announce the commencement of business of our second branch in The Gambia, i.e. Banjul Branch (1) and we are also to launch the new money transfer services that will target our customers within the countries in the sub-region where Skye Bank is operating," MD Yusuf said.
Officials of the bank also announced Skye Bank's new products and features, which is "African Payment Service" (APS) during a press briefing.
Arinola Kola-Daisi, Group General Manageress - Retail Banking, Skye Bank D/C, said they realised that about $700m around West African sub-region in terms of money transfer remittances on annual basis.
"This is what is available statistically and there is a lot of informal movement of money that is not even tracked but after what is tracked this is the estimate that we have and we found out that when people are moving money there is high level of insecurity because there is high risk of theft and this has limited commerce within the sub-region," said Kola-Daisi.
In the course of transporting the money there is a tendency to lose a lot, she also said, adding that there is a need for an efficient transfer of funds within Nigeria and West Africa.
Mrs Kola-Daisi informed journalists that other Skye Bank subsidiaries were also opened in Sierra Leone and Equatorial Guinea.
She said that with the African Payment Service, people can move money from any of the Skye Bank branches across or within the sub-region.
The targets of those providing these services are people who run small businesses, she said, adding that lots of traders that come to Nigeria, trade back and go, are now even going to other countries in the sub-region.
She enjoins their customers to go to any Skye Bank branches and make best use of their new products, especially scratch cards which will enclose customers control number.
"The scratch card is reliable and convenient for both the sender and the receiver and of these services we do have plans for expansion within the sub-region," Kola-Daisi said.
Read Other Articles In Article (Archive)