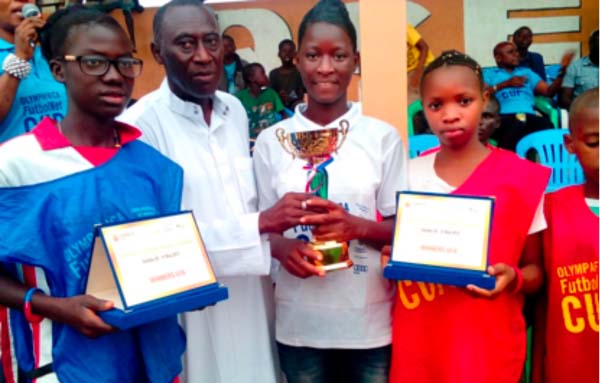 The Serekunda East-based Olympafrica Centre in Gambia on Sunday clinched both trophies of the International FUTBOLNET Tournament held in Banjul from 29 to 31 May 2015.
The tournament, held at Serekunda East Mini Stadium, saw the participation of four Olympafrica Centres from three countries, namely Gandiaye and Somone from Senegal, Mansoa of Guinea Bissau and Serekunda East Olympafrica Centre from The Gambia.
With each centre presenting two teams (U-14 and u-16), the tournament was staged over two days with competitions held in both morning and afternoon.
After a league format competition, Serekunda East Olympafrica Centre of Gambia and Somone Olympafrica Centre from Senegal made it to the final of the U-14 category while Gandiaye Olympafrica booked the final ticket against Serekunda East Olympafrica Centre in the U-16 category.
In a well-attended final, Serekunda East Olympafrica defeated Somone 2-1 on post-match penalty kicksin the U-14 categoryafter both team scored 7-7 points after assessment.
In the U-16 category, Serekunda East Olympafrica team beat Gandiaye Olympafrica 1-0 in the game and 8-6 points in the overall game.
Winners of both Serekunda Olympafrica teams were awarded a trophy and goal medals, while runner-ups Somone Olympafrica U-14 team and Gandiaye Olympafrica U-16 went home with silver medals.
Somone Olympafrica U-16 team and Gandiaye Olympafrica U-14 clinched the third positions and were awarded bronze medals.
Mansoa Olympafrica Centre of Guinea Bissau was voted as the best team that respected the six main values of the Futbolnet and they awarded Gold plaques in both U-14 and U-16 categories.
The overall most disciplined team award, sponsored by Serekunda East Olympafrica center, went to Mansoa Olympafrica Centre of Guinea Bissau.
The competition was supervised by Coumba Marieme Ly, the assistant head of programmes of the Dakar-based Foundation Interenationale Olympafrica and Mr Oriol from Foundation FC Barcelona.
The Gambia National Olympic Committee (GNOC) top echelon, namely its President Momodou Dibba, first Vice President and IOC Member Beatrice Allen, 2nd Vice President Abdoulie Jallow and bureau member Abdul Shyllon witnessed the competitions.
The National Sports Council (NSC) was represented by Pascal Camara while the Gambia Football Federation was represented by Technical Director Ebrima Manneh.
What is 'FutbolNet'
'FutbolNet' is a programme that uses soccer as a tool to promote values among young people through an innovative teaching methodology
'FutbolNet' is a programme based on Futbol3 methodology, a tool for social intervention, never applied in Catalonia before, but with well-known successful experiences in Colombia and Germany.
It's an innovative method to reeducate through sport and includes working with groups of young people on subjects like cohabitation, discrimination, gender, etc.
The key to 'FutbolNet' is dialogue. Through this tool, players (boys and girls) not only enter into a relationship of mutual respect and understanding, but also gain self-confidence and a sense of responsibility.
The project is put into practice in several cities of Catalonia, in collaboration with their councils.
The project beneficiaries are groups of children and young people aged between 10 and 16 years, selected by regional organizations that collaborate in the implementation.
Read Other Articles In Article (Archive)