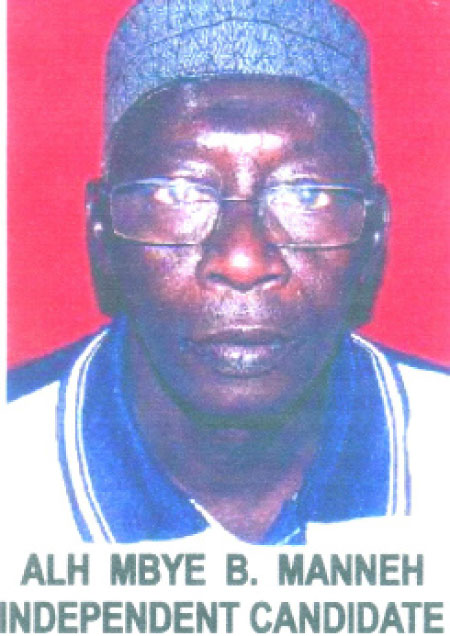 The independent candidate for Banjul South constituency, Alhagie Mbye Baboucarr Manneh, has expressed optimism that he will win the Banjul South seat in the March 29 parliamentary polls.
Manneh, who was speaking in an interview with The Point yesterday, said that it is the electorate in Banjul South who demanded for him to contest the polls.
"This is why the electorate of Banjul South are behind me, giving me all the support that I need, and I promise that I will win the election because of the support they have shown to me," Manneh told this reporter.
According to him, he has been a staunch supporter of the ruling APRC party for the past 17 years, and was disappointed by the news that he has been expelled from the party.
Asked if this will not affect his candidature in Banjul South, Manneh replied in the negative, stressing that his expulsion from the APRC party will even add weight to his political career in Banjul South, now more than ever before.
Outlining some of his priorities if elected, Manneh revealed that key among his priorities would be to look into the school fees affairs of school-going children, especially those who cannot afford it; create employment opportunities for the youths of Banjul South, and make best use of the sea since Banjul has no farmland.
"The incumbent parliamentarian in Banjul South has failed the electorate in the constituency, and that is why the people decided to nominate me as their choice, and would vote for me come election day," he said, adding that for the past five years, the current NAM has not convene even a single meeting for the people of the constituency.
"As the people's representative, you have to deliver to your electorate, failure of which the electorate will give their back to you, and this is what is happening in Banjul South today," he opined.
Manneh further told The Point that the people of Banjul Central want development, and that any parliamentarian who cannot deliver will be replaced, no matter what.
Noting that he has started his house-to-house campaign, Manneh said this will be done in a peaceful manner.
"My supporters will never intimidate, insult or harass anybody during the campaign period," he said, noting that despite all the noise, he will emerge victorious, come March 29.
Read Other Articles In Article (Archive)