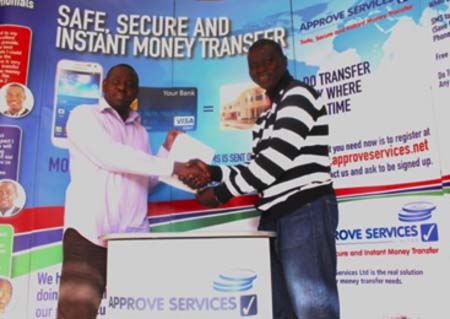 Barely two weeks before the most-awaited National Sports Award, Approve Services Ltd on Tuesday 10th March 2015 formally signed an exclusive 5-year sponsorship deal with the Sports Journalists Association of the Gambia (SJAG) for the SJAG's flagship Sports Personality of the Year awards.
This annual event is geared toward honouring individuals, athletes, sports personalities as well as living legends for their achievements and contribution toward Gambian sports.
The award, for the sixth year running, is graced by prominent sporting personalities from the sub-region and beyond.
According to SJAG's interim president Musa Sise, the presence of high-profile international icons at the award event is meant to raise the profile of Gambian sports, as well as provide excellent opportunity to market the country's culture and promote products and services of business partners to visitors and the general public.
Thus, providing a great platform for businesses like Approve Services Ltd to advertise and promote its products and services.
Musa also said, "SJAG is equally pleased to be recognizing and celebrating the first-ever Gambian referee to officiate at a FIFA World cup tournament in Bakary Papa Gassama, who has been recognized by the Confederation of African Football (CAF) as the continents topmost Referee for the Year 2014, following his nomination during the Globe Soccer award in Dubai in December. SJAG wishes to honour, celebrate and award Papa for his individual efforts and the positive representation he has accorded the country in the global arena," he added.
"SJAG will also be hosting, honouring and celebrating the Scorpions of 1985/86 of Modou Musa, Aziz Corr, Baboucarr Sowe (Laos) Lamin Owens, Baboucarr Saho, Sang Ndong, Alhagie Sarr with their Senegalese counterparts of Sheikh Seck, Joseph Koto, Roger Mendy and others during the award.
This year's award will also be graced by the executive and members ANPS to be headed by Momodou Koume, president and other Senegalese sporting personalities."
Approve Services CEO Lamin Sanneh and support staff at APS head office in Birmingham, UK, witnessed the signing ceremony. He said, "Approve Services Ltd is a financial institution that serves the money transfer needs of Africans living in Europe, USA and Africa. The company focuses on the needs of small businesses and private individuals to safely and securely send money to their clients, family and friends worldwide, at reasonable and affordable exchange rates. Approve Services Ltd has global presence with offices in the United Kingdom, Sweden, Norway, Germany, France, Spain, Italy, Netherlands, Portugal, Austria, Belgium, USA, The Gambia, Nigeria, Sierra Leone, Senegal and Ghana."
Read Other Articles In Article (Archive)