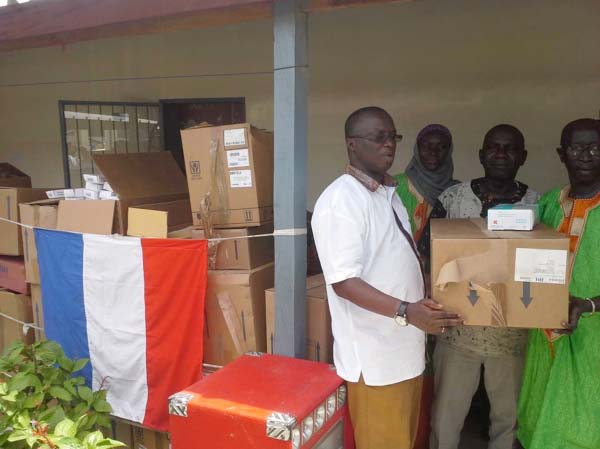 Siffoe clinic has received donation of medicines and other medical supplies including pharmaceutical equipment worth more than 10,000 euros, equivalent to about D500,000.
The materials were donated by the Gambia Rural Poor Association (GAMRUPA) in collaboration with IDA Foundation.
GAMRUPA, a community-led association, has a chapter in The Gambia (based in Siffoe village) and Holland.  It is focused on supporting and improving the lives and living conditions of rural poor Gambians.
The health supplies were delivered to the clinic's officials by the Minister of Health Dr Omar Sey at the weekend.
"This is the real meaning of government-private partnership," Dr Sey said, while handing over the materials to officials of Siffoe clinic.  "It is this type of partnership that President Jammeh always calls for."
The health minister said the donation is complementing efforts of The Gambia government in the health sector.
He noted that the donated materials would go a long way in reducing the travel burden on the people of Siffoe to access health treatment in Brikama.
Dr Sey called for the proper upkeep of the supplies, saying their preservation would help in the sustainable operations of the clinic.
Nyally Abubacarr Sambou, regional health director of West Coast Region, said as the Greater Banjul Area and the rest of the Kombos are increasingly becoming urbanised, the demand on the healthcare system is rapidly increasing.
Addressing this requires genuine government-private sector partnership, he noted.
Kalifa Kanteh, treasurer of GAMRUPA Gambia chapter, said that after the inauguration of the health facility last February, the community of Siffoe conducted several fundraising activities to buy medicines and settle other needs of the clinic.
Alhaji Yunusa Sowe, officer-in-charge of Siffoe clinic, said that since the opening of the clinic, it has registered more than 90 deliveries out of which 87 were conducted by midwives and 7 by community health nurses.
Ebrima Jallow, chairman of the Siffoe village development committee, Bakebba Nuha Demba, representative of the village Alkalo, and the women representative Sonna Saho, all thanked the donors, saying their contribution to the sustainability of the clinic "is appreciated".
Read Other Articles In Article (Archive)