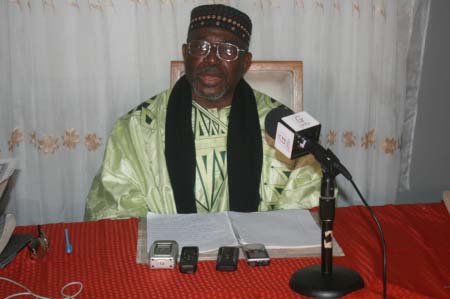 The president of Majmou'atu Rawdatil Majaalis, an Islamic organisation, has described the words of Alhaji Ibrahima Jarju as fallacious, false and unacceptable as they are purely an allegation in order to continue misleading the Muslims 'Ummah' in the country.

Baba Aboubacarr Drammeh during an organised press conference by the organisation held at Nemataba in Brikama, Thursday 21 November, , disclosed that the press conference was meant to clarify some allegations made against him and Majmou'atu Rawdatil Majaalis during his absence, as he was out of the country for some months.
He said Rawdatil Majaalis has observed clearly that Supreme Islamic Council is being used as a domestic piece of property confined to just a few set of people. He said this was clearly manifested during a debate between Alhaji Ibrahima Jarju and Alhaji Aboubacarr Jabbie, PRO Rawdatil Majaalis.
"His analysis, which is out of order, shows that SIC is a preserved property to the executive member led by the former president Alhaji Mohammed Lamin Touray (whose term of office lapsed but refuses to step down) but not to other Muslim community."
Again, he noted that his remark that Rawdatil Majaalis is a 'one way traffic organization, which its membership comprises only Madinkas, and the affairs also run by only Madinkas' " is a false claim and out of contest. Rawdatil Majaalis is a multi-tribe organisation that its membership comprises Madinkas, Fulas, Wollofs, Jolas, Majangos, Sarahules and all other denominations in The Gambia."
Drammeh went on that "for Alhaji Ibrahima Jarju to claim that I set up another organisation - Majmou'atu Rawdatil Majaalis, is out of order that's purely false allegation and unacceptable."
He stated that the Majmou'atu Rawdatil Majaalis was established in 2017 while he (Baba Drammeh) was in United States of America. He explained that he was contacted to come and lead the organisation formed to serve the entire Muslims of this country. "I wasn't in the country for some months before the organization was established.
He further explained that: "I was contacted with goodwill assuming that I could be one of the right persons to lead the organisation with peace, security, harmony, unity and with respect to the principle of Islam, parents, observe the rights of women and children and every citizen be it Muslim or non-Muslim," he emphasised.
With hope, he said, the government of The Gambia would definitely endorse the unanimous decision of the opinion of the Islamic religious leaders of the country. He added there is need for all the 1873 villages in the country, as each village has Imam Ratib, to be involved in the electoral process and vote for the leadership of their choice to lead the Gambia Supreme Islamic Council.
He stated that the selection and appointment of Alhaji Sheriff Muhammad Sanusi Nano Hydara, the Caliph of Brufut and vice president of Rawdatil Majaalis to lead as the President of the Gambia Supreme Islamic Council remain intact "and it is a turning point in the history of Islamic organisations' activities in the country."
Read Other Articles In Article (Archive)