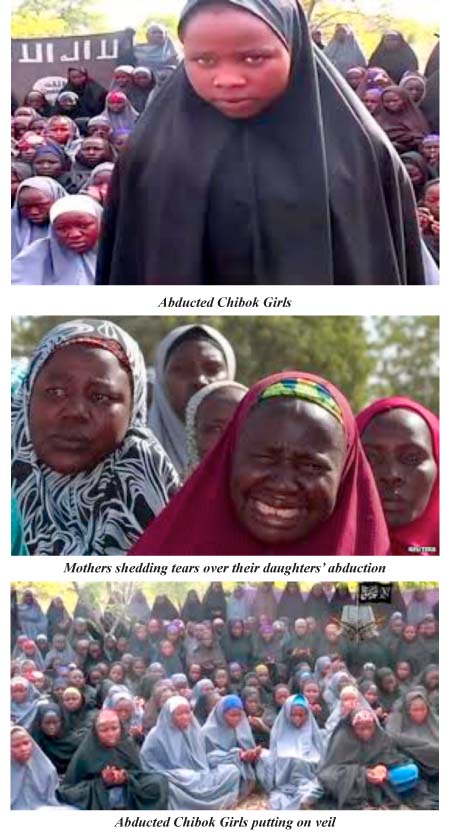 It is exactly two years today, after the abduction of over 200 schoolgirls in Chibok in Northern East Nigeria by Boko Haram.
I have seen a mother cry while sitting next to me at the courthouse and her face covered in tears.
When I asked her what was the matter, she replied by pointing her finger to the young man in the dock, awaiting his sentence on charges of impersonation and said to me, "he is my son."
I once met with a mother walking barefooted, crying and talking to herself with her hands on her head, because she was called and told that her daughter fainted at school, and was rushed to hospital.
I saw a mother who prevented her son from being stabbed with a knife, and she ended being stabbed instead.
Seeing all these women crying out in pain for their children breaks my heart, and I can only imagine the magical bond that a mother and her child shared.
Then I remembered how my own mother will struggle for credit to call me, and asked if I'm okay whenever I stayed up late at work.
But then, what could be more heart-breaking than the pain of seeing poor, helpless and voiceless mothers of the abducted Chibok girls spend two good years of their lives shedding tears, taking to the streets, and speak a language common to all of them and saying, "Bring Back our Girls."
Even when the Nigerian government, world leaders turned a blind eye and deaf ear to their call, these women, so desperate to re-unite with their daughters, still weep bitterly, using any resource at their disposal, raising their banners; calling out to those they voted for in office and to those that claimed to be the world's Governing Body, to please listen to their cries and bring back their girls to them.
According to UNICEF's report released on 12 April 2016, the number of children involved in 'suicide' attacks in Nigeria, Cameroon, Chad and Niger has risen sharply over the past year, from 4 in 2014 to 44 in 2015, and that more than 75 per cent of the children involved in the attacks were girls.
Boko Haram's use of child bombers has increased over the last year, with one in five suicide attacks now done by children.
Two years of endless nightmares, search for a flesh, mothers washing their face with tears day-by-day, dreams of daughters returned and hope of their whereabouts, or at least a phone number they could call to hear their voices, and be convinced that they are alright and alive, proves futile.
The Nigerian government has indeed failed the abducted Chibok girls and their families.
A mother can live with the pain of losing her child to death, and perform a remembrance for him or her every year.
A mother can live with the pain of knowing that her child is in jail, and that someday he or she will return to her, because they are always in touch.
But don't expect a mother to understand and accept the pain of her child being kidnapped alive, and taken to an unknown land and declared missing.
How can the Nigerian government or the world leaders expect us to understand why they cannot bring back our girls to us safe and sound from Boko Haram custody - for two good years!
I wonder what the situation will be like, if it was the daughters of the Nigerian President and his cabinet ministers that are involves in the kidnapping.
Will the daughters of the African presidents languish under Boko Haram custody for two years without them being rescued?
Why is it always the taxpayer that suffers for the crimes a government committed?
If a mother's cry for her daughters returned for two years could not move the Nigerian government, African head of states and the world leaders to action, then what will?
According the UNICEF Report, "Beyond Chibok" Between January 2014 and February 2016, Cameroon recorded the highest number of suicide attacks involving children (21), followed by Nigeria (17) and Chad (2).
Over the past two years, nearly 1 in 5 suicide bombers was a child, and three quarters of these children were girls. Last year, children were used in 1 out of 2 attacks in Cameroon, 1 out of 8 in Chad, and 1 out of 7 in Nigeria.
Girls, who are often drugged, were behind three-quarters of such attacks committed by the militant Islamist group in Cameroon, Nigeria and Chad. The UN children's agency stated that one in five Boko Haram suicide attacks are now being carried out by children.
To the Boko Haram leader, Abu-Bakr Shekau, I wonder if you ever had a daughter or know what it means to lose a daughter to a terrorist group like yours.
But I know for a fact that you are human, and as such you have blood running through your veins and a little prick from a needle will be felt by you.
Shekau, do you know that the mothers of the kidnapped Chibok girls are wounded through the heart by you, and that it is only you that can heal those wounds by bringing back their girls to them safe and sound?
Do you know that for two good years, these mothers cannot tell anyone how sweet food can be and how tasty the water they take in is; talk less of the sleepless nights and endless nightmares, with the hope that someday they will wake up and see their daughters standing in front of them?
Shekau, real men fights men and a man ceases to be a man when he takes children to fight in his place. Drugging girls and using them as suicide bomb attackers does not make Shekau a hero, but a coward.
It is common for our governments to commit crimes right under the noses of the poor electorates; so if the Nigerian government commits a crime against Boko Haram and wounded him and his family, paying back is normal, and Shekau should wound the government back and its family and not the poor electorates.
We only hope that Shekau will have the heart of a father and release the Chibok girls to their mothers, as an anniversary gift from a father and not a terrorist.
To our dear President Muhammad Buhari, the Nigerian electorates voted for you with the hope that you will be the light at the end of the tunnel for the abducted Chibok Girls. I am sure that you have a daughter, and you will never wish for her to be in the Chibok Girls shoe.
As a President, husband and a father, please extend your fatherly emotions to the abducted Chibok Girls, end their 2 years nightmare and please "Bring back our girls" safe and sound.
As the kidnapped Chibok Girls clock 2 years today, SHE-SHE-SHE stands in solidarity with their mothers and pray for an end to the 2 years of nightmare.
Wherever the Chibok girls might be, dead or alive, we want them to know that the world will never give up on them, and that they will forever remain in our prayers.
We equally call on the world leaders to subdue Boko Haram on their knees, and "Bring Back Our Girls!"
Read Other Articles In Article (Archive)