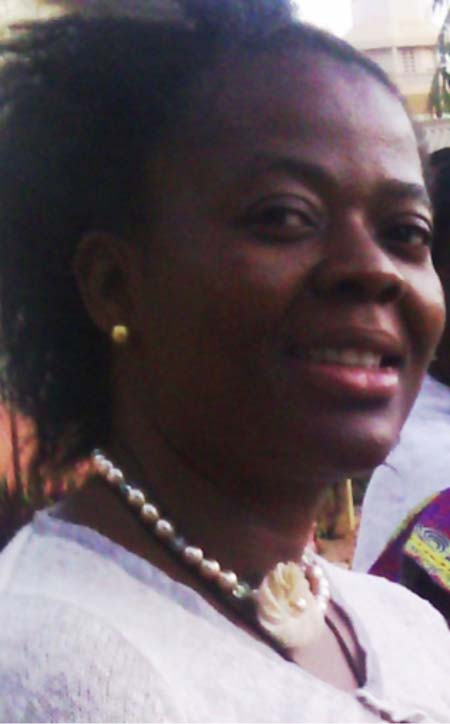 Valentine Day 2015 is just around the corner and in The Gambia, majority of women and girls and even men whose only participation is to collect gifts from their intimate partners who are women and girls celebrate Valentine's Day.
When we talk about Valentine, most women and girls will tell you it is all about showing love to your boyfriend or husband by way of buying flowers, frames with romantic words, teddy bears, cake, and lots of other romantic gifts to show how much you love and care about them.
We have seen Valentines' celebrations go well for some lovers as well as bad for others to an extent of people killing each other, in the country.
Well, everyone has his or her own definition when it comes to Valentine's Day but to those who know it well and have been part of their religion, they will tell you what it really means and what it entails in the religious perspective.
She-she-she caught up with Ms Augustina Ugbana, coordinator of the Evangelization Training Programme of GPI, which is Celebrating Valentine's Day under the theme: Valentine's Day - True Love of God, and this is what she has to say about Saint Valentine and the day, now called Valentine's Day.
She-she-she: Who is Saint Valentine?
Ms Ugbana: St. Valentine (A priest in Roman Catholic Church) had real love for God and mankind and gave from his heart all he had to assist the poor, needy, widows and widowers, orphans and vulnerable children in the Roman Empire.
He also encouraged the rich in his time to assist the less privileged in their communities. He is patron of lovers (married couples) because he encouraged true love of marriage by discouraging sex before marriage orfornication therefore secretly was marrying young people who wanted to get married despite the Emperor Claudius 11 ban on marriage in 200 A.D. in his empirebelieving that unmarried young men makes better army.
St. Valentine was arrested because of this and was jailed by the Emperor. He was letter released because he healed blind Julia the daughter of his jailer as he prayed for her in Jesus's name.
Valentine was a lover of children and children missed him and wrote messages of affection to him. They threw notes through the bars of his cells. He continued wedding people, and as a result, he was rearrested and was executed on 14 February 269 A.D.
He was canonized as a Saint (someone worthy of emulation of his good work for God and mankind) by Pope Gelasius and in the year 495 A.D the Pope also named 14th February 14th, VALENTINE'S DAY after him.
She-she-she: Can you share with us The Valentine misconception?
Ms Ugbana: Valentine is not and can never be a social nor worldly idea or event as people assume it to be. Many say it is world lover's day - yes; because it is a day dedicated by the Catholic Church as a feast day for all married couples to remember their patron saint who encourage them to get married rather than living together without being wedded, which is forbidden by God. This day has been totally misinterpreted in the society that our young ones, especially the female gender, suffer most of the consequences of its negative effects such as sexual abuse and exploitation during this great celebration.
Most of the youths freely celebrate this day by looking out for someone to be their Val (as they term it). This often leads to quarrelling and fights and in recent years, it has lead to death.
Many students save the hard-earned income of their parents given to them for lunch just to buy Valentine cards and gifts for their opposite sex youths.
Many use this medium to deceive their parents with in-genuine excuses to find a way out of the house on Valentine's Day to engage in illicit sexual acts or parties, which are detrimental to their lives and future.
Getting towards this celebration, most students do not pay attention to the educational pursuits anymore. Many lose their virginity; get pregnant and drop out of school. Some get infected with disease and these hit so badly on our girl children.
She-she-she: How best can one celebrate Valentine's Day?
Ms Ugbana: Our message: how best to celebrate valentine
Lets us all stand up against this misconception and work together to correct it. Majority of the youths celebrate it without knowing the origin and the true meaning of it and how best to celebrate Valentine's Day.
Valentine means celebrating true love of God; therefore, celebrate Valentine everyday by continually showing the true love of God to the people around you, especially the rejected, the lonely, and the sick at home or in the hospital, the widows, the prisoners, the orphans, vulnerable children and every other child around you.
Visit some of these individuals and institutions and present your gifts of true love of God to them. Pray with them and give some words of hope to them. Your smile and presence can make a positive change in their lives. A cup of water, a plate of food, a can of juice will go a long way. Youths and the unmarried adults should avoid indiscriminate sexual abuse and activities (fornication and romance), for sex is meant only for the married.
Do not fall a victim of sexual exploitation or engage in acts that could ruin your future. Married couples should renew and strengthen their love on such great day. Advise anyone who does not understand this celebration and let parents teach their children to love and fear God.
She-she-she: Love is not one day thing in life but it is a daily process that goes through new inventions each second of a person's life. Girls you don't need to buy your boyfriend a cake, picture frame, expensive wristwatches, shoes, office wear, perfumes, flowers, etc to show them how much your are madly in love with them.
We all want a good future for someone we are in love with so as a lady, advise that young man who smokes his life out every day to stop smoking and put that cigarette money away to the bank for the future you too dream off; advise that gentle man you love to break away from sitting at the ghetto and do something useful for his future, encourage him to go into small-scale business that will give him a dignified and meaningful life. When you are truly in love with this young man your Valentine should be celebrated everyday by reminding him of the importance of school and encourage him to keep on burning the midnight candle.
Use the Valentine's Day to be with your family, give that cake you want to give to him to your mother and let her pray for you. Let your Valentine be getting the best result for your WAEC or WASSCE Examination.As girls, we should focus more on our future and growing to become useful citizens of our nations, and good partners and wife when the time is up.
She-she-she wishes you a happy Valentine's Day in advance.
In respect of the occasion, which falls this year on Saturday 14 February 2015, Sister Augustina Ugbana, in collaboration with participants of the Evangelization Training Programmes of Gambia Pastoral Institute (GPI), is organizing a highly educative and exciting activity as well as symposium on Valentine's Day, under the theme:VALENTINE: CELEBRATING THE TRUE LOVE OF GOD, which is out to clear misconception on and give the true picture or meaning of Valentine's Day.The occasion, which will also be celebrated in the form of rally on Saturday, will kick-start at 3pm at St Therese's School, Westfield.
Read Other Articles In Article (Archive)