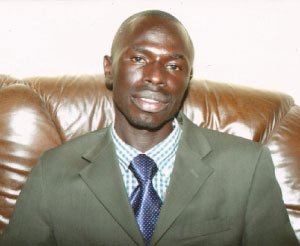 Welcome to another edition of Personality of the Week, the weekly column which profiles Gambians and non-Gambians alike whose contribution to the development of The Gambia should be celebrated.
In today's edition we bring you the profile of Modou I. Cham, also known as MC Cham, a young man who has a fine blend of intelligence and ambition with a natural desire to serve the people by providing the kind of humble leadership that motivates all and sundry towards the achievements of shared ideals.
He was born on March 15, 1983 in Ebo town to the late Ebrima Cham and the late Mrs Haddy Colley Cham. He attended Bundung Primary School and then went to Kerr Pateh Upper Basic school in Central Badibou District of North Bank Region from 1996 to 1999. He then proceeded to Gambia Senior Secondary School where he sat the West African Senior Secondary School Certificate Examination (WASSSCE).
Mr Cham then attended Gambia Technical and Multimedia Institute (GTMI) from 2007 to 2009 where he did a foundation course in computing and a diploma course in Information Technology. He also worked as a revenue collector at KMC from 2002 to 2004. He has also worked at News Technology Africa, opposite the FIB Building in Banjul, for one year as a supervisor.    
When asked why he entered politics, he said earlier this week: "Firstly, I entered politics during the 2007 National Assembly elections with the aim of contesting with the APRC's Honorable Haddy Nyang-Njie, but after my nomination I got pressure from my parents and friends to withdraw from the contest five days before the National Assembly elections with my clear consent. Secondly, I was born into politics because my late father was a councillor for Ebo Town ward for one term during the PPP regime. Thirdly, my namesake who is a native of Basse, MC Cham, was a well-known politician during the PPP regime…As far as I am concerned, politics is in my blood."
Mr Cham did not hesitate to answer the call of history by contesting for the post of Ward Councilor in his community in the 2009 councillorship elections. "I also stood as an Independent candidate during the 2009 Local Government elections against the current councilor of Ebo Town ward, Momodou Lamin Badjie, who stood for the APRC party and Dodou Sanneh for the UDP party. But because of the three competing candidates in the race, I lost the seat," Mr Cham continued.
He is sure he could have won if there had only been two candidates, but as there were three he was not able to take the seat. Even though luck was not on his side, he has not lost confidence in his ability and his potentials. Mr Cham feels that his message was heard but perhaps the time was not right for it to bear fruit.
He said, "In the 2012 National Assembly elections, I contested as an Independent candidate with APRC's Haddy Nyang-Njie which was a tough contest for both of us and I lost that seat to Honorable Haddy Nyang-Njie."
Mr Cham says that he does not see his election loss as a failure, but as a way forward for him in the political arena of this country. "The number of votes I secured shows to me that the people of Jeshwang constituency want me to represent them at National Assembly…but my time has not yet arrived" he said.            
Mr Cham feels the need to make a contribution to national development and the only way to do that is for him to follow in the political footsteps of his late father Ebrima Cham and namesake MC Cham. "My late father before he passed away always encouraged me to attend political meetings…this was an important factor in my current interest in politics" he explained.  
"As politicians we need to put the interests of the people first. I believe we must put aside our political differences when it comes to national issues. We should come together and work for the development of our motherland The Gambia, because whether you are an opposition supporter or ruling party supporter, our aim is the same: to develop this country for good, not for bad," said Mr Cham.
In this, he is an example to his fellow men and women within and outside Kanifing Municipality Region. But he is humble enough to shrug such observations aside and bend to the task at hand, whatever it may be.
Guided by such a philosophy, Mr Cham has served at various levels including Jeshwang village development committee and the ward development committee. In this way, Mr Cham has gathered a lot of experience. He is always ready and willing to serve in any capacity required of him. This has motivated him to engage actively in youth work in his community.
As a youth activist Mr Cham has been instrumental in the establishment of the following youth groups in his community: Ebo Town Youth and Children Organisation (EYCO); Ebo Town Red Cross Home Link; and the general mobilisation of youths within Ebo town to render community services, such as cleansing, on a regular basis.
Mr Cham has a lot of promise. He is a dynamic young man who has gathered a lot of experience both in youth work and in the political arena from an early age. It is clear that he has a bright future.
Read Other Articles In Article (Archive)