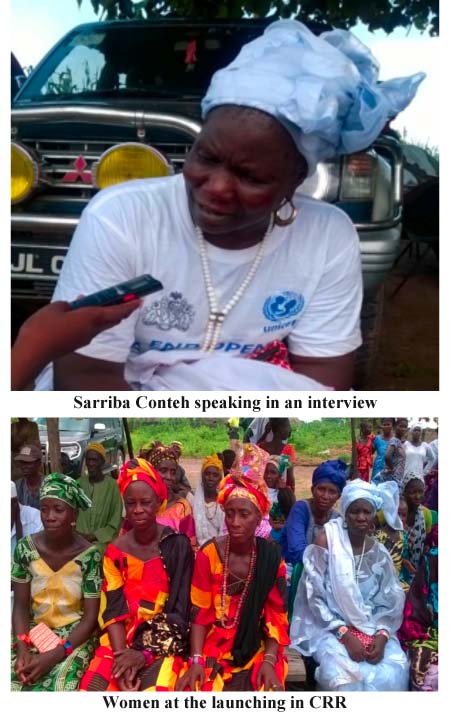 The declaration on ending open defecation in The Gambia came as a result of the African Sanitation Conference, where the Ngor Declaration was signed by African Ministers responsible for sanitation and hygiene.
The use of Ngor, which means "dignity" in Wolof, demonstrates the fact that African ministers wanted to highlight the negative impact of open defecation on the dignity of others.
The purpose of gender parity is for both men and women to be fully represented and take part in decision making processes, as well as every development agenda of a country.
The declaration by the Gambia government on ending open defecation in the country is one such thing that is led by women in the country, especially those in the community of Dalagass and satellite villages.
Open defecation normally happens in the rural areas, where people have little or no knowledge of the importance of building a toilet or even defecating in a toilet.
Some of the people who defecate in the bush or behind their buildings are used to it, and they see it as something that is normal because it has been part of their lives.
These people also have no knowledge as to the health issues defecating in the open might cause them.
One may be wondering why women are at the forefront of this declaration, and what role were they playing there.
If you are wondering, I will say this was not an occasion where women clap, sing, dance, eat and go home; but an occasion where women took part in disseminating the information in the language and means they understand best.
During the launching of the declaration that took place at Dalagass community in CRR, women walked from as far as Brikamaba and other villages to come and be part of the launching ceremony.
They have a role to play in this declaration, because women are in charge of the running of the families.
When children are sick, it is the women that are responsible in making sure that they get the health care service they need.
Open defecation stakeholders say it contributes to most of the illnesses affecting children in the communities.
At Dalagass community, women turned out in their large numbers, translating the message into a beautiful song that could be consumed within seconds, making the ministries involve and UNICEF's work easy in ending open defecation by 2017.
This is the beauty of being gender sensitive in any work you are doing as a ministry or a nation.
I met with Sarriba Conteh from Fulladu Saruja, one of the women who translated the message into a beautiful song, in an interview, and she said defecating in the open is not good.
They practice it because they did not know about the health implications, but now that they have ministries who brought the message to them for them to build toilets far from where they cook, and to defecate there instead of in the bush, that is very good.
Defecating in the bush has a serious health impact on them because when it is raining, running water getting into the homes and the kids playing in it containing the defecations that were done in the bush would bring nothing but illness to them, as well as the children.
People should stop defecating openly now that they have got the knowledge about the health implications attach to it, so that they could remain healthy with their children.
She thanked UNICEF for the good job they are doing in bringing health related matters to their doorstep, as well as showing interest in the protection and welfare of their children; and they are very happy that is why they also turned out in their large numbers to grace the occasion.
She said ending open defecation in The Gambia by 2017 is here to help them as women, because they are the ones in charge of children in the homes; so anything that is geared towards promoting the health and welfare of those children would in turn help them as women, to ease their work and that is progress on their part.
On the issue of those people who have toilets in their homes, but still defecate in the open because that is what they are used to, she said if they come across those people, they would ask them to change their behaviour and highlight the health implications attach to their behaviour.
If they defecate in the bush, it would come back to you in the homes and brings you sickness when it rains. She said it all goes down to behavioural change.
On the issue of women who are not able to make it to the launching due to one reason or the other, she said when they return to their various communities they would extend the information to them; and they would make sure that at any gathering they attended, they would disseminate the information so that people would stop defecation in the open, so as to achieve the declaration by 2017.
She said their work is to disseminate information, and that they would do.
UNICEF Country Representative, Mrs Sara Beysolow Nyanti said: "We have to ensure that every child in every region, in every community of The Gambia has access to sanitation facilities. We have to ensure that when children are walking to school they are not walking into defecation; when they fall, they are not falling into defecation; when they are playing they do not play in defecation.
"I will encourage anyone who defecates in the open to stop it if they wish to live long, cut down on untimely deaths and be as healthy and productive as the people of my village," she said.
Read Other Articles In Article (Archive)