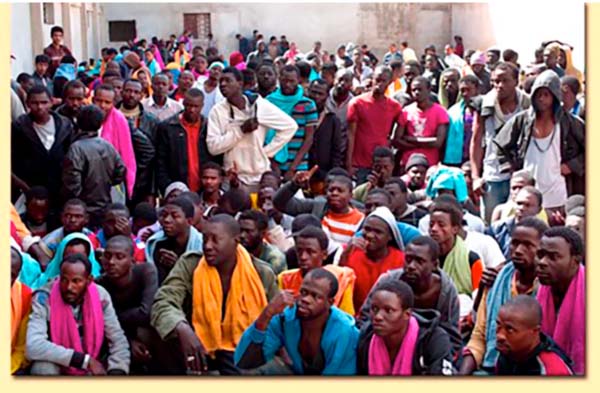 Gambia`s Interior Minister Mai Ahmad Fatty, Friday announced that 140 Gambians have been voluntarily repatriated to Banjul, following an appeal they made to the government.

According to Fatty, more than 1000 youthful Gambians enroute to Europe through the Mediterranean Sea are currently stranded in Libya.
Fatty spoke to journalists on Friday at the Kairaba Beach Hotel.
"We have been negotiating with the International Organization for Migration (IOM), as we have received concerns on the request of our citizens in Libya who embarked on irregular migration, which we call the 'back way'.
"Many of them want to come home. They are victims of crime and they have no money, no food, and no proper shelter and their living condition is abominable. The responsibility of the government is to look after its citizens, whether they are at home or abroad.
"When I got into the picture, I accelerated negotiations with IOM in order to repatriate those Gambians who are stranded in Libya voluntarily.
"We have registered 460 Gambians in Libya who are living in abominable conditions and would like to return home; they can no longer proceed. Among these 460, I am glad to report that 140 people have returned around 1 am this morning([Friday 10 March 2017) to Banjul."
Fatty expressed optimism that the 460 Gambians, who registered to voluntarily return home will all be repatriated, as the government is working in partnership with IOM.
The 140 Gambians were all screened by joint security forces personnel, including the immigration, the police and the intelligence services at Banjul International Airport.
Minister Fatty added that in partnership with the IOM, each of the returnees was given (D2,600) thousand six hundred dalasis to facilitate their transportation back to their homes.
"As I speak to you today, they are returning to their families, and many of them are in the Kombos. That is something that we feel very proud of because it is our responsibility to support our citizens in distress, whether at home or abroad.
"And, we will continue to do that with all Gambians, wherever they may be. We will also expedite the facilitation of travel documents to them, which we had in this particular instance."
According to Fatty, there is no "recognized" government in Libya at the moment, amidst battling militia groups fighting each other that put the lives of citizens at risk."
He advised Gambians in Europe not to be listening to those who would try to scare them by saying the country`s immigration officials would be coming for them, to pick them up.

The Gambians who have committed crimes in foreign countries (those in prisons or have served their terms) and are supposed to be returning home, it is the judicial process that will be sending them home and not the Gambia government, he said.

"If anyone (Gambian) commits crime or violates immigration laws of other countries, the Gambia government cannot intervene because the country has similar laws."
However, he said if they have evidence that such cases did undergo impartial judicial process, they, the government, would use their diplomatic services in favour of such Gambians.
"There will be immigration officers in most Gambian embassies to make the work or process much easier for them," the Interior minister added.
Read Other Articles In Article (Archive)