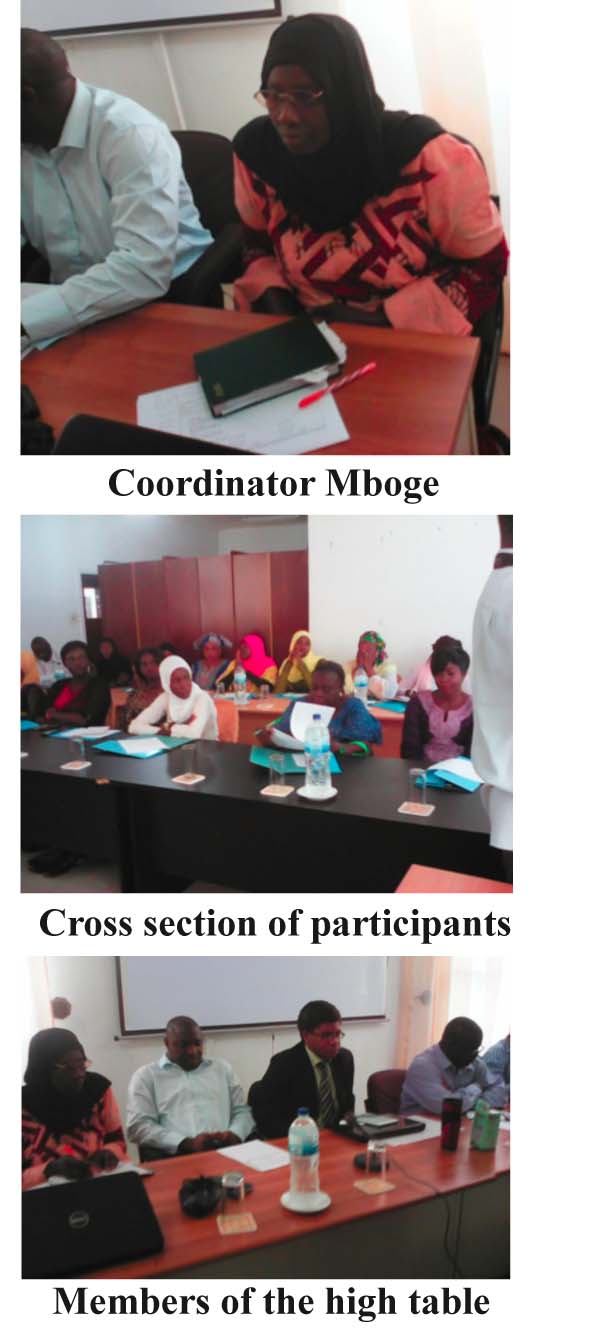 The Network Against Gender-based Violence (NGBV) yesterday commenced a three-day training of health workers on clinical guidelines for the management of gender-based violence (GBV) at the National Nutrition Agency (NaNA) conference hall along Bertil Harding Highway.
The training session brought together health care providers from various hospitals and health centers, and was aimed at empowering the participants with tools to effectively respond to the needs of survivors of GBV, and to ensure proper management of GBV cases at their various hospitals or health centres.
Delivering the opening remarks, Samba Ceesay, acting-Director of Health Services, said GBV has numerous health consequences that extend beyond the physical injury including maternal and mental health, disability, cardiovascular disease and sexually transmitted infections.
He said the root of the issue was that gender was not equitable in terms of power.
In many places around the globe women feel they could not fight back, refuse their husband or partner or insist on the use of the condom, and they also fear reprisals and the stigma attached to the violence.
Moreover, the interception between AIDS and GBV could not be over looked, he said, adding that responding to GBV was a key tool in preventing the spread of AIDS; thus they renew their commitment to halt the spread of AIDS and to prevent GBV.
Mrs Haddy Mboge, coordinator of the NGBV, said the three-day training of health care providers was another training activity that the network has conducted since January 2014 to date.
They have conducted a series of trainings courses for health care providers, lawyers, and social workers to ensure that victims and survivors of gender-based violence are well managed, she said.
The training course was aimed at ensuring that the management of GBV was also done at health facility level, especially working together towards sustainability, she added.
She disclosed that, as at now, they have a one-stop center working at Edward Francis Teaching Hospital, and they wanted to set up another one in Bansang Hospital.
They know that cases are being reported at the health centers all over the country, so they deemed it necessary to ensure that all health centers in The Gambia are able to managed GBV cases, particularly sexual violence cases, she further stated.
In doing so, she added, they also consider that it was important to mainstream or to get a module in all the training centers that are training nurses like the SRN, SEN etc.
They have started that advocacy and, very soon, they would be bringing their lecturers together to train them so that by the time the nurses graduate, they would already know how to manage GBV cases clinically, she went on.
However, she said, they would still be targeting health facilities to ensure that those who are already out of the training sessions held would also have the skills and expertise to manage GBV cases.
Dr. Patrick Idoko, lead trainer from EFSTH, said when they look at the Edward Francis Small Hospital they found out that they were still having a lot of cases of GBV.
He said last year in a period of less than 6 months, they registered 40 cases of GBV and it was from just one hospital.
They believed that this was a tip of the iceberg, because they know from studies done in several places that most cases of gender-based violence did not go to health facilities, and that got them worried.
He said most cases involved children, and that made them to ask 'why?', or was it that adults are not victims?
He wants to believe that adults don't come to report, that was why they received only reports about children.
He said most of the time, if the survivors end up at the EFSTH, they may have visited other health facilities.
They believe that all the various hospitals represented are very important partners in helping to rid our society of GBV, and bringing healing and justice to the victims and survivors of GBV, he continued.
Dr. Idoko when they are dealing with health care, especially in the context of GBV, they needed to make sure that they know what they do at EFSTH so that in their care they would not do anything that would tamper with what they are going to do, if they needed a referral.
He said in GBV the earlier they started collecting evidence the better.
If they could collect the evidence from all the various hospitals and provide treatment at that level the better, as well.
Njundu Drammeh, executive chairman NGBV, said a few years ago, the United Nations made a study on GBV in the world, and there was one startling revelation that was made. This was that one out of every three women in the world would become a victim of GBV in her lifetime.
He said one out of every three was very serious, and who would be the perpetrator, a husband, boyfriend, an intimate partner and a family member.
According to him,if you have three daughters, know that one would be a victim of GBV in her lifetime.
If there are three women in the market, one of them would be a victim of GBV in her lifetime, he said, adding that if there are three girls in the school one of them would be a victim of GBV in her lifetime, which was serious and they needed to tighten their belt.
Drammeh added that they are talking about a very serious issue, an issue that physically, emotionally and sexually destroys that person, and they know that doctors and nurses are often the first point of call.
Thus they are very important in the whole process of ensuring that this woman, girls or child that is a victim of GBV gets some justice.
He hoped that through this workshop, the participants would be able to have the skills and the knowledge to be able to give the network support.
He said as doctors, nurses and people who come in contact with this people, one would expect that they would go beyond the normal call, they would have their ears to the ground, seen the unseen, try to hear the unheard, and try to go under the skin of these women to be able to really know their problems.
Read Other Articles In Article (Archive)