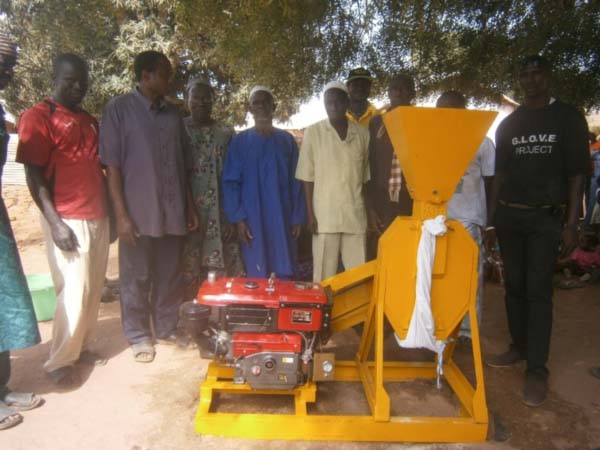 The Gambia Longevity through Village Enterprise (GLOVE) project, a registered charitable organisation, recently donated a milling machine worth more than D150,000 to the community of Cheesay in Lower Nuimi, North Bank Region.
The machine, donated through the founder of GLOVE, Jackie Church Marena, will save the women of the drudgery of trekking for kilometres to the nearest village with a milling machine to mill their coos and rice.
The machine was donated to GLOVE by one Mr Charles Barber, who is the principal donor of the organisation.
Speaking at the presentation ceremony, Kemeseng Marena, chief superintendent, Gambia Immigration Department, who is a member of GLOVE, advised the villagers to open an account for the machine.
This will help so that when there is any problem with the machine, the money from the account can be taken to maintenance it, he said.
Abdoulie Corr, treasurer of GLOVE, said the machine will not only save the women from travelling to another village to mill their rice and coos; it can also be an income generating venture for them, if only they could manage it well.
The Alkalo of Cheesay village, Babu Secka, said the machine would not only help women of his village but also those from the surrounding settlements.
The chairperson of the village, Amie Secka, said that was the first time the village was having a milling machine, thanks to GLOVE.
She reiterated that the machine would help save the time, energy and money of the women while promising that it would be put into good use.
Mustapha Ceesay, who spoke on behalf of the Chief of Lower Nuimi, said GLOVE's donation to Cheesay village had not come as a surprise, for the project had been helping the community of Lower Niumi for several years.
GLOVE project started in 2008 in Lower Nuimi but it has now expanded to Greater Banjul Areas and Fonis.
The project is aimed at reducing poverty, establishing sustainable enterprise, promoting education and improving health.It also gives humanitarian aid, according to the stakeholders.
Read Other Articles In Article (Archive)