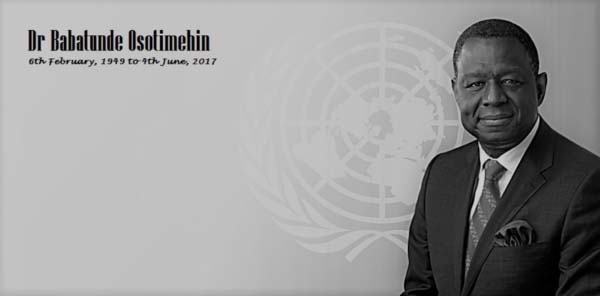 Women, girls, young people and Sexual Reproductive Health Rights Activists, women's right defenders all over the world and the United Nation Population Fund (UNFPA) received with sadness the demise of the UNFPA Executive Director Dr. Babatunde Osotimehin, the voice that when heard gives hope to women, girls and young people.

Babatunde, some called him champion of health for all, others say, he is an advocate of women's health, but do you know that Babatunde is more than what the world could describe him.
He is the voice that speaks for the less privilege and the marginalize telling the world that they have rights that need not only to be respected but fulfilled.
He is a man that speaks passionately about women having a say over their sexual reproductive health and be in control of it.
Babatunde is the man who fights day and night for the young girls to be educated to avoid making mistakes that will hinder her growth and hide her potential. He is the friend to the young people.
A statement released by the UNFPA Gambia office reads: "This is a devastating loss for UNFPA and for the people, especially women, girls and youth, he dedicated his life to serving, from when he became a doctor in Nigeria, UNFPA expresses its deep sympathy to his family and prays that they have the fortitude to bear this great loss.
Dr. Osotimehin was bold and never afraid of a challenge and his strong leadership helps keep the health and rights of the world's women and girls high on the global agenda. He understood that the world's 1.8 billion young people are truly its greatest hope for the future.
He vigorously championed three major transformative goals of zero preventable maternal deaths, zero unmet demands for Family Planning, and the elimination of harmful practices against women and girls. UNFPA urged all to honour his legacy by rallying around those global goals."
Statement of the UN Secretary General reads: "I am profoundly saddened by the sudden passing of my good colleague and friend, Babatunde Osotimehin. I offer my sincere condolences to his family, to the staff of UNFPA, to the Government and people of Nigeria, and to all those around the world touched by this loss. The world has lost a great champion of health and well-being for all.
Dr. Babatunde was admired for globally for his leadership of the UN Population Fund and for his forceful advocacy for the world's women and girls in particular.
Sexual and reproductive health and reproductive rights are among the most important and often sensitive, on the international agenda; Dr. Babatunde calm yet ardent efforts helped families get the sexual and reproductive health services they need, and helped the world advance the landmark 1994 Cairo Programme of Action on Population and Development. His voice was invaluable over the years, including his time as Nigeria's Minister of Health, in pressing for family planning, women's education, children's health and action on HIV/AIDS as vital ingredients in human progress.
At this moment of sorrow, let us give thanks for Babatunde's life of service."
UNAIDS mourns the sudden passing away of the Executive Director of the United Nations Population Fund (UNFPA), Babatunde Osotimehin. A renowned global public health leader, Dr Osotimehin was widely regarded for his work on sexual and reproductive health, as well as his work on HIV.
"Babatunde Osotimehin will be remembered for improving the lives of women and young people and promoting sexual and reproductive health and rights," said Michel Sidibé, UNAIDS Executive Director. "Young people have lost a champion today."
As Executive Director of UNFPA, Dr Osotimehin led the organization's efforts on HIV prevention, especially among adolescents and young adults, promoting condoms and ensuring that women and adolescent girls receive HIV prevention and sexual and reproductive health services. He also led Nigeria's AIDS response as Minister of Health and as the Director General of Nigeria's National Agency for the Control of HIV and AIDS.
"I have lost a brother, a valued long-time family friend," said Mr Sidibé. "The UNAIDS family commits to carry forward the legacy of Babatunde."
UNFPA is one of UNAIDS' 11 Cosponsors advancing the response to HIV."
The Network of Journalist on Reproductive Population and Development (NJORPAD) also extends their condolence to the family of Dr. Babatunde.
The Network President, Halimatou Ceesay, said "it is a great loss to the world as having someone in this 21st century who will be ready to give his life to serving women, girls and young people around the globe is very rare and Dr. Babatunde carry all these on his shoulder without any complaints. Babatunde even in his office monitors UNFPA activities around the globe by tweeting every activity of UNFPA publish in newspaper articles including publications done by Journalists belonging to the NJORPAD in The Gambia."
"We feel the loss of such a great man who defends women, girls and young people without caring much about the negative comments used to portray them on daily basis. His absence will be felt and filling those shoes of his will be a great task to his successor," she said.
May his soul rest in peace.
Read Other Articles In Article (Archive)