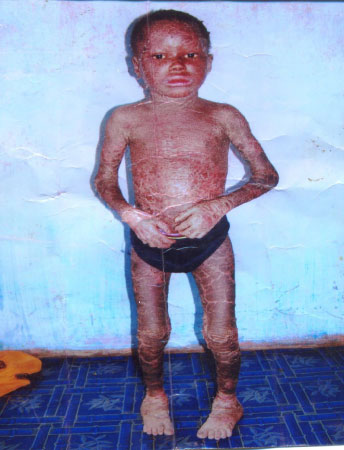 Gohey Gaye, a seven-year-old girl and resident of Nema Sukuta, is in dire need of medical assistance.
The child, who walked into The Point offices on Garba Jahumpa Road on Tuesday with her grandmother, looks completely sick with her skins turning out.
According to medical reports from the Department of Dermatology at the Poly Clinic of the RVTH in Banjul, the child is suffering from Itchiosis.
Medical report further revealed that the child needs highly protein diet, highly nutritious food as well as a proper care.
Speaking to Then Point, her grandmother who takes care of the girl, Gohey Gaye, said her grandchild started suffering from the disease since four months after birth.
"We have been to several places seeking a cure for the child but still we could not get any or much support and proper treatment," said the grandmother.
According to her, they are poor and could not afford the medical and food requirements for the suffering girl.
"We are appealing that if any one knows a cure for this kind of sickness to please come to our aid," Madam Gaye pleads.
She is therefore pleading with the Gambian nation, especially President Yahya Jammeh, to extend a helping hand to the child.
Madam Gaye also appealed to good Samaritans and charity organisations to come to her aid by providing medical support and the recommended foods prescribed in the child's medical report.
Furthermore, all those who may want to render assistance to the child can do so via calling the family on 00220 - 3603438 or 00220 - 4497441.

 
Read Other Articles In Article (Archive)