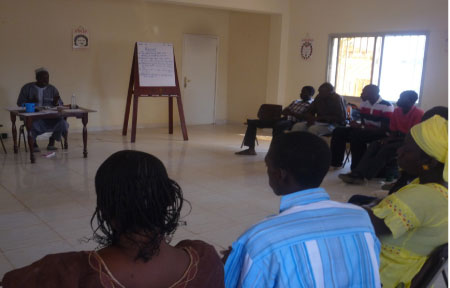 Gamcotrap, Save the Children Sweden/UN Women and Ministry of Basic and Secondary Education recently concluded a two-day capacity building training forum for classroom teachers on FGM and its associated problems and the possible inclusion of FGM syllabus in the school curriculum.
The forum held at Gamcotrap conference hall, attracted over twenty-five classroom teachers drawn from region two in West Coast Region. It was meant to brainstorm on the draft syllabus to be included in the school curriculum.
The objective of the forum is to acquaint participants with knowledge and skills to adequately deal with FGM in schools, to develop lessons plan according to thematic areas in the curriculum and test lesson plans in accordance with the allocated timeframe.
Speaking at the forum, Mary Small, senior programme coordinator of Gamcotrap, said her organization had carried out numerous training and information campaigns on harmful traditional practices with emphasis on FGM to create awareness on the immediate and long-term consequences on women and girls.
According to her, various groups have been targeted in the FGM campaign and these include women, men, religious leaders, policymakers, teachers, students, circumcisers, and institutions.
He added that despite the series of sensitization and training done by her organization, there is still need for more awareness creation.
"A memorandum of understanding was signed between MoBSE and Gamcotrap to support the move in partnership within the two institutions," she said.
The training formed part of the recommendations emanated from previous trainings organised for teachers, which aimed at familiarizing teachers on the life skill subject: 'Female Genital Mutilation', which is to be included in the school curriculum.
The curriculum unit under the MoBSE was further engaged and together, a draft curriculum was developed and tested with some of the teachers.
This project is a contribution to the ongoing efforts of Gamcotrap to eradicate FGM in The Gambia, emphasizing and encouraging a sustainable approach of targeting students to combat FGM.
"We are aiming through this project to see communities free from FGM and to protect girls from this act, while respecting their reproductive and human rights," she remarked.
The thematic areas that the project supports specifically are to promote gender equality and empower women, reduce child mortality, and improve maternal health.
According to her, they hope to develop a basis, through which teachers are empowered to take on a significant role in preventing FGM.
It is expected that the project will build the capacity of teachers to design, develop and disseminate quality gender and culturally sensitive information on FGM.
In addition, it is hoped that communication and advocacy materials on FGM will be strengthened and students will also have sustainable access to reliable information on FGM that will increase their awareness about the risks and dangers of FGM.
For her part, senior education officer of the curriculum Department Mrs. Awa Saho Jallow added that FGM is a deep rooted traditional practice that is sensitive in its nature.
"Therefore it needs culturally sensitive approaches to tackle the issue of FGM at grass root level."
Mrs. Jallow further spoke at length on the importance of inculcating the right information, knowledge and skills in school going children to grow up with that understanding to be able to take their own decisions.
According to her, MoBSE has signed a memorandum of understanding with Gamcotrap to work hand in glove in ensuring that FGM is effectively taught in schools to eradicate its menace at all level.
She noted that, a draft syllabus on FGM for school curriculum was developed to look into how possible FGM can be included as a subject to be taught in the schools.
"FGM is not only a cultural or traditional practice but also an academic one, which should devise ways and means of dispatching such information," she said, while urging teachers to give authentic information to their students and avoid giving contradicting information "which is not going to help the children".
She commended Gamcotrap for their initiative and support in providing the skills and knowledge on FGM and its impacts on the reproductive health of women and the girl child.
Other speakers on the occasion included Imam Baba Leigh and Omar Dibba, youth coordinator, who dwelled on the Islamic perspective on FGM and the dangers of practice.
Read Other Articles In Article (Archive)