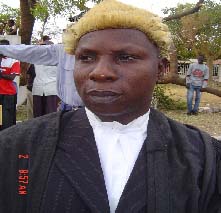 As the Case is now Transferred to Justice Fagbenle

The team of defence counsels: Antouman A.B. Gaye, Lamin S. Camara, Neneh Cham-Chongan and Hagum Gaye, representing Ebrima Sawaneh, Pap Saine, Sarata Jabbi Dibba, Pa Modou Faal, Abubacarr Saidykhan and Bai Emil Touray, with the exception of Sam Sarr, who are standing trial on charges ranging from conspiracy to publish seditious publication, conspiracy to commit criminal defamation and criminal defamation, on 23rd July 2009, filed a motion at the Court of Appeal for Justice Joseph Wowo to remove himself from the case since the defence team bemoaned the lack of confidence in him in handling of the matter.
It would henceforth be heard before Justice Emmanuel Fagbenle, and the case is now set for continuation of hearing on Monday 27th July 2009 in an open court.
This dramatic twist occurred after the defence team challenged the neutrality of the former Judge involved in the matter and withdrew their representation in defending the six journalists. Sam Sarr, the sixth accused person is up till now representing himself.
Stating their reasons for withdrawal, outside the court's chamber, Mr. Gaye stated that, "all defence team have announced their withdrawal in the seven journalists' case at the High Court before Justice Wowo." He added that: "I know that I am not going back to his court because the court is prejudice."
Lawyer Gaye stated further "we want the case to be withdrawn before Justice Wowo". He further elucidated that they have filed a motion at the Court of Appeal, which is before the Registrar of the High Court, noting that the said motion was served to the Clerk of the Court and a date have been taken for hearing at the Court of Appeal, slated for 28th July 2009.
Read Other Articles In Article (Archive)