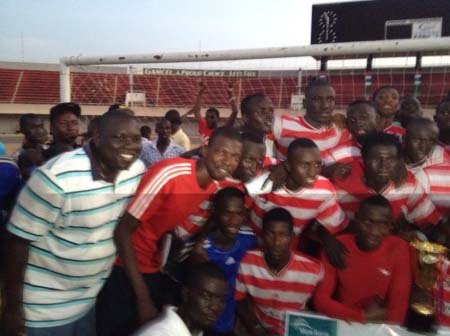 Serrekunda West on Sunday beat Brikama by a goal to nil in the final of the Sky Banjul-sponsored Super Nawetan competition to lift their first-ever Super Nawetan title.
Musa Bangura was the hero for Serrekunda West, scoring the only goal of the game from a fine strike for his side in the 58th minute of the encounter played at the Independence Stadium in Bakau.
As winners, Serrekunda West went home with a giant trophy and a cash prize of D50,000 while runners-up Brikama received a consolation prize of D30,000.
Francis Senghore of Manjai won the leading goal scorer award, while Janko Jaiteh of Brikama was named the best goalkeeper of the tournament.
Modou Lamin Chatty of Serrekunda West was voted the best player of the tournament while the man of the match award went to his teammate Musa Bangura.
Each of the four players received a cash prize of D1,500.
Meanwhile, Serrekunda East were crowned champions of the female category of the same competition after beating neighbours Serrekunda West in the female final.
Serrekunda East received a trophy and a cash prize of D15,000 while runners-up Serrekunda West collected a consolation prize of D10,000.
Speaking to reporters shortly after the encounter, Alfusainey Fatty, head coach of Serrekunda West, said he was delighted not just for the victory but also for the zone winning the Super Nawetan for the first time in the history of the competition.
He described their campaign as excellent this year, noting that he knew they were going to win the final looking at the players he has at his disposal.
His side had to be careful as this was a final, he noted, saying there is no room for mistakes, hence they have to take their time.
Head coach Fatty described the Super Nawetan final played under the new Gambia Football Federation as wonderful, but added that the organisation was poor at the beginning of the tournament until when it was moved to the Independence Stadium.
John Ndure, head coach of Brikama, said it was a final and both teams came into the game with the aim of winning the trophy but at the end Serrekunda West were the lucky side.
Read Other Articles In Article (Archive)