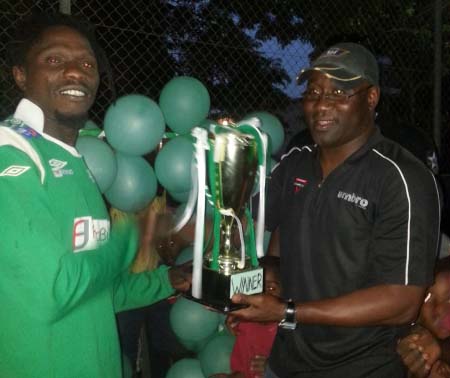 Nac City FC on Saturday beat Sidas FC 5-4 on post-match penalty shootout following a goalless draw to be crowned champions of the Fajara Youth Football Tournament organised by Ma Ansu Nicol, a native of Fajara.
The keenly-contested final, which played at the Cocktail Football ground, saw both teams put up respectable performance and created chances but could not capitalise on them thus the game ended 0-0 resulting in penalty kicks which ended 5-4 in favour of Nac City.
As champions, Nac City went home with a giant trophy and a cash prize of D6,500 while runners-up Sidas FC received a trophy and a cash prize of D3,500 as consolation prize.
Churchill Baldeh of Sidas FC went home with the leading goal scorer prize after bagging 8 goals. He received a cash prize of D500.
Ma Ansu Nicol, organiser of the tournament, said the aim of staging the competition is to keep players busy and fit, as well as prevent players from just sitting down doing anything, which he says can damage their career.
The tournament, in its fifth edition, is self-sponsored by the organiser who said there are young talented players in the area they want to encourage to take up the game seriously and help them develop themselves and the game in the area.
Mr. Nicol said he aims to stage a similar but much professional tournament in the near future, added that he would look for sponsors this time around because it is difficult organising the competition alone without sponsors.
The ultimate aim of organising the tournament is to put the career of players in the area on track and develop the game in Fajara and the country as a whole to higher heights, since players come from different parts of the country to play in the competition.
Joseph Peacock, chief guest of honour at the final, said that when he took the kickoff of the opening of the tournament in November he told them football, and sport in general, is out to promote unity and engage young people in meaningful development.
Echoing the same words again, Mr. Peacock said the whole idea of organising the tournament was to bring young people together to exhibit their skills and show potentials.
He commended all involved in the tournament, including teams, players and officials who supported the initiative, saying the competition went on well without any violence.
The Fajara Youth and Sports Committee started the initiative as a holistic way of developing young people around the area, Mr. Peacock recalled, saying it is incumbent upon the private sector to support such an initiative.
Mr. Peacock also commended the organisers, whilst calling on people to help them, saying: "This is the only way we can move the sports forward."
He concluded by describing the whole tournament as good, peaceful, friendly and enjoyable.
Pa Modou Sawaneh took the kickoff of the final.
Read Other Articles In Article (Archive)