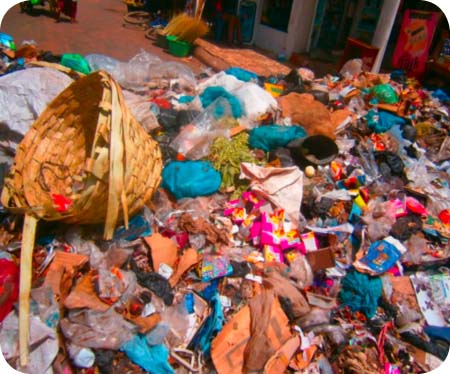 (Issue,Monday 30 March 2015)
Vendors at the Serekunda Market have complained bitterly about the stinking odour and foul air pollution being emitted by the heaps of refuse around the market, over the past days.
This is causing a serious health hazard and making life unbearable for people living around the market area, vendors who spoke yesterday to The Point said.
Almost all vendors at the market complained that some of the heaps of refuse have been in and around the market for almost a week, causing foul smell and posing a health hazard to consumers who go to the market, passers-by and people living around the vicinity.
This, they said, had forced some shops in the area to close and cease operation, as shop owners and buyers could not bear the stench.
One Yaya Nyang, a vendor selling around "Bartess Junction" in Serekunda where refuse is being dumped, complained bitterly that the odour is really affecting them, and the refuse collectors were nowhere to be seen.
He said the authority responsible should endeavour to make sure that the rubbish is removed from the market; otherwise it could cause a serious health hazard and serve as a breeding ground for infectious diseases, "which is not at all wanted in our communities."
He, therefore, called on the relevant authorities to facilitate refuse collection and keep the area clean.
"We want the relevant authorities to help us remove these heaps of refuse, as vendors are also entitled to a healthy environment," he said.
Another passer-by, a lady, also expressed similar sentiments, calling on the relevant authority to collect refuse from the market and prevent an unhealthy environment for the vendors, passers-by and residents of the area.
"The vendors are paying dues every day, hence they deserve to sell in a comfortable environment," she said.
One Moriba Sey, a trader, also complained, saying: "Serekunda Market is very horrible right now as the refuse is scattered everywhere."
According to Sey, while vendors are paying their dues regularly, no serious action is being taken to ensure refuse dumped at the market is collected for disposal at the appropriate place. 
"We have the right to sell in a clean environment that would not jeopardize our health," he said.
He also called on the authorities to act and help them remove the stinking waste at the market, to prevent a serious health hazard and disease outbreak.
Read Other Articles In Article (Archive)