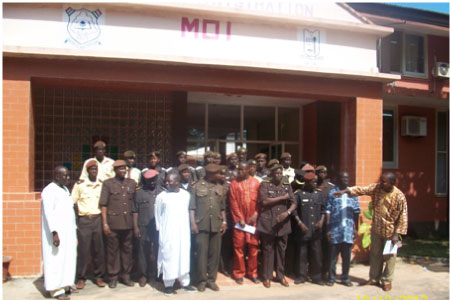 A five-day training course on leadership and general management for senior staff of the Gambia Immigration Department ended recently at the MDI. It was supported by Personnel Management Office (PMO).
Speaking at the closing ceremony held at the MDI conference hall, Buba Sagnia, Director General of the Gambia Immigration Department, said it was the second time this year that personnel of his department are benefiting from such training programs.
He added that capacity building is important for any organization to achieve its objectives.
Such training clearly manifests the department's aspirations to groom a potential and competent human resource base, Sagnia further stated.
"It is our vision as to reform, restructure and transform the immigration department into a role model to other immigration institutions within the sub-region," he continued.
This cannot be realized in the absence of a capable and skillful human resources base, he pointed out.
Sagnia assured all that the department will explore all avenues to build the capacity of its men and women to increase efficiency and excellence in service delivery.
He expressed hope that this training will boost their morale and equip them with the requisite skills to improve their efficiency in there various postings.
Alieu K. Jarju, deputy director general of MDI, said capacity building is a key ingredient for national development as espoused in our national development blueprint, Vision 2020, adding that capacity building is also a centerpiece for both the Millennium Development Goals and the Gambia's governance policy as initially promulgated in 1999.
He further noted that there is already a policy, as well as a national agenda that requires training, skills development and overall capacity building for all sectors of our economy.
"Removed from the idiosyncrasies of development and donor policies, one would realize that capacity building is a necessary cross-cutting theme that ensures that all workers are on the cutting edge of their fields of responsibility".
According to him, this is partly the reason why the United Nations Development Program (UNDP), the single most important champion of this concept, defines capacity development as the process through which individuals, organizations, and societies obtain, strengthen and maintain the capabilities to set and achieve their own development objectives over time.
This, he said, is because it is a process, one training event will not guarantee continuous success and sustainability of programs.
Delivering the vote of thanks, Ebrima Mboob, a participant, said the training course has reminded them of the tasks ahead, while assuring the gathering that they will make good use of the knowledge gained.
He finally commended the MDI and PMO for their support.
Read Other Articles In Article (Archive)