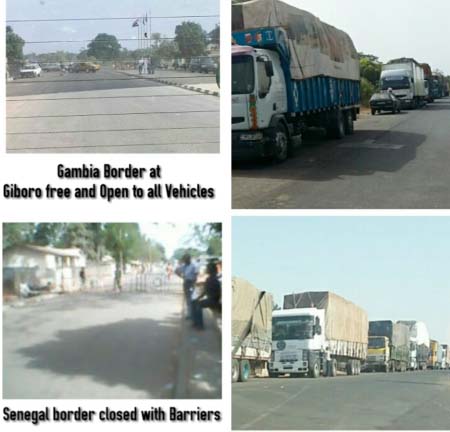 As the border closure between The Gambia and Senegal continues for more than three months now, The Point newspaper has been able to ascertain that The Gambia's side of the border is opened as usual but the Senegalese side continues to be closed.
The Senegalese border at Silitti-Giboro remains shut to vehicles and commodities from The Gambia while The Gambia's side remains opened to people and goods to freely enter and exit, The Point's reporter has confirmed.
Speaking to The Point at the Senegalese border with The Gambia in Silitti, Abdou Badjie, a Senegalese businessman, said: "It is obvious that it is our border (Senegal) which is closed and that is affecting us.As a businessman, I am losing a lot of money on a daily basis as most of my goods are perishable."
He said previously, Senegalese used to board vehicles bound for The Gambia and alight directly at Giboro in The Gambia but now they have to alight at the Senegal border in Silitti.
At Silitti, they have to either board another commercial vehicle or walk the distance from Silitti to Giboro.
"With this arrangement, you have to budget an extra CFA1,000 and if you happen to arrive at night, you are charged double price," he said."Those who think that it is only The Gambia that is suffering from this border impasse have no idea what is happening here."
The Senegalese businessman explained that it would be best for all if the authorities in the two countries could bring an end to the border closure.
Cherno Jallow, a Guinean truck driver whose truck is loaded and bound for Guinea Bissau, said that they have been waiting for more than three months at the border.
He noted that it is the Senegalese side of the border that is closed, not the Gambian side.
"We have not been involved in any business activity for more than three months now because of the border closure by Senegal," he said. "I am calling on those in charge in Senegal to open the border for the benefit of all."
Abdoulie Jammeh, a Gambian businessman with goods bound for Ziguinchor, said because he could not pass through the Senegalese side of the border, he had to return one of his loads of highly perishable food commodities to The Gambia as it got rotten.
"As food items have expiry dates, I will be forced to sell my consignment at a loss, if the Senegalese border remains closed," he lamented."I am appealing to Senegal to open the border especially before the commencement of the holy month of Ramadan."
Mamud Jawara, a businessman, said so many goods bound for Guinea Bissau and Ziguinchor are stuck at Silitti-Giboro border waiting for the opening of the border to continue their normal business transactions.
"Even the normal business chain is also affected as some goods owners took loans from bank to undertake this cross country business and now that the borders are closed, they are forced to sell their goods at black market prices to be able to pay off their debts."
Read Other Articles In Article (Archive)