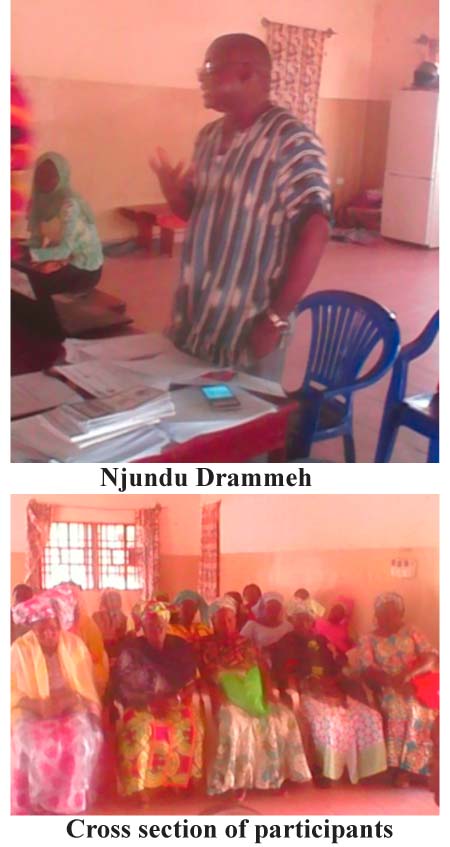 The Child Protection Alliance (CPA) Friday held a sensitisation workshop on child rights and protection for the "Ndimbalante" Women's Group based at the Bakoteh Housing Estate.
The aim of the sensitization workshop, held at the Bakoteh Community Centre, was to dialogue with the women who are also mothers in their various homes about the rights and welfare of children, as well as talk to them about ways and means of protecting the children.
Speaking at the forum, Njundu Drammeh, CPA national coordinator, said "often when you asked people who is a child they would say a child is someone who knows nothing."
"Some would also say a child is one that cannot tell his or her right hand from the left hand, or someone still under the care of her mother.
"Under the law, a child is someone below the age of 18, and 18 years above is one that is from childhood entering adulthood."
It was important for them to discuss about the rights of the children and the importance of letting them enjoy these rights, he said.
It was the elders who always say children are the future leaders, but children are not only the future leaders, but leaders of today as well, he went on.
"Future leaders are prepared for their future today, and if a future leader is prepared for the future today, then he or she becomes a good leader."
They all know that children have no votes and they don't vote and someone who does not vote has no voice. They have also known that when there is war in a place it is the children, women and the elderly who suffer most. Even when there is hunger it is the children that are affected most.
According Mr Drammeh, children are also powerless and cannot defend themselves, and that was why most of the rape and abuse cases involve them.
This was why world leaders came together many years ago to say that they should give rights to the children.
Fatou Sanyang, the leader of the Ndimbalante Women's Group, said the sensitisation session was important for them, because they are given the opportunity to know the rights that their children have, and what they could do, as mothers, to make sure that the children enjoy these rights.
Anywhere they go to as a women's group, they would disseminate the information, because child rights are something that are very important for every human being to learn and share.
The group had been in existence for 12 years and has more than 20 members and their children included, as well as two men.
She added that they are in full support of child rights, and it is something that is a global issue.
Astou Jarju, a participant, said she does have meetings with her children, chat with them as well as listens to their demands and suggestions on matters relating to them or the family.
The meetings normally come at a time when she is angry with them; but after chatting with them she would try to find out if maybe she did something that annoyed the children.
Yusupha Sanyang, the councilor for Bakoteh Ward, said the workshop is a good one because child protection is a very important issue.
He said to discipline a child to show him or her the right way is proper, but there are some responsibilities that should not be given a child.
He said there are a lot of children on the road selling and loitering about, which is not good, adding that it is good to keep and teach the children at home.
Read Other Articles In Article (Archive)