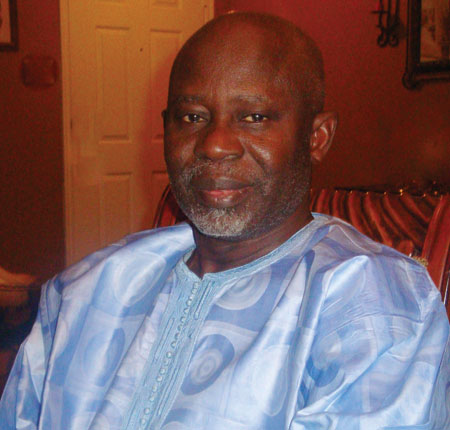 The leader of the opposition United Democratic Party has reacted to what he said appears to be the closure of the border between The Gambia and Senegal, insisting that the issue should be addressed by the two governments at government-to-government level, and not by transport unions.
Ousainou Darboe, who described the current situation as very unfortunate and a matter of great concern, said in an interview with The Point yesterday that Gambia's foreign policy should put Senegal at a very high premium, while Senegal should also place a high premium on its relationship with The Gambia.
While acknowledging that Gambia and Senegal appear to have good relations with other countries in the sub-region, the UDP leader said the happenings on the Senegal-Gambia frontiers do not attest to that, because two friends will not be behaving to each other in the manner in which The Gambia and Senegal are behaving towards each other.
''I think that certainly the relationship between The Gambia and Senegal is not as it used to be, and we should do everything possible to restore that,'' he opined.
''We all know that there is an ECOWAS Protocol on the free movement of goods and people across borders, whose value both The Gambia and Senegal are very much committed to,'' he stated.
At that level, he added, there is a lot expected of the two nations in terms of facilitating cross-border movement.
''This does not appear to be happening, although we understand from reports that private vehicles are not affected unlike the commercial vehicles which are severely affected,'' he said.
In Darboe's view, this is very unfortunate because it is affecting commercial vehicles from places like Guinea Bissau, Mali and other countries, which come to the country to buy goods.
Noting that the current problem is having a very serious repercussion on other countries that are not immediately concerned with this problem, Darboe urged the two countries to iron out the problem within the principles of the Senegalo-Gambia Secretariat.
''I do not think leaving it to the Senegalese transport union to conduct negotiations with state entities of The Gambia will solve the problem.
''It is the governments of the two countries who should really look at these issues, and not to accept the Senegalese transport unions as the mouthpiece of the government of Senegal.
"Matters between states should be handled at the level of governments, and not delegating organisations that are non-governmental to handle matters of this issue,'' he added.
He also called on the two governments to invoke the provisions of the protocols that establish the Senegalo-Gambia Secretariat, so that these issues can be dealt with for the mutual benefit of the two countries, both of which are suffering as a result of this problem.
Read Other Articles In Article (Archive)