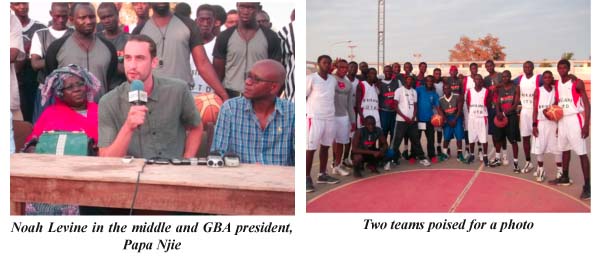 The executive director of Sports for Education and Economic Development (SEED), Noah Levine, based in Senegal, is currently in The Gambia on a courtesy call on the Gambia Basketball Association (GBA).
The mission was meant to assess the current condition of the Gambia basketball infrastructures in the nation and to visit schools to see how they could provide support of infrastructure that complements both basketball and education in the nation.
The visit also aimed at bringing the game to schools throughout the nation and to help provide the infrastructure that match both basketball and education.
The executive director of SEED project has been operating in Senegal for three years now.
The project, which also has a partnership with the NBA, is working in conjunction with the USA on how to develop basketball through training of coaches, referees and developing basketball athletes.
In a press briefing held on Wednesday at the Independence Stadium basketball court, Noah Levine said his visit to The Gambia was also to figure out where the needs are and to identify the gaps for possible solutions.
He mentioned that they wanted to see where they could possibly bring support for the development of the discipline in the country as well as see the skills level of the players and getting directly to the youth.
He said they personally work with NBA Africa who helps trained their coaches, adding that he is looking forward to having such developments for The Gambia.
He said the SEED project was founded in 2002, with a central mission to leverage the power of sports, specifically basketball, to give youth not only in Senegal but across Africa, the opportunity to achieve education and to become leaders of the next generation.
He said that since 2002 they have been able to produce about 100 students in sixteen different nations around the world some of whom are on studies in the United of States of America.
"It is an opportunity to use the game of basketball to develop not only talented basketball players, but also for students to stay in schools to acquire relevant knowledge, including basketball and academic knowledge, he said.
"I am a great example of the power of basketball. I quickly realised that I am not going to be a professional basketball player myself, but I used the game to gain education and I am now working in the game of basketball," he said.
He thanked the GBA for the warm welcome and expressed hope for a long lasting sports relationship.
GBA president Muhammed Musa (Papa) Njie welcomed the gesture, saying he is looking forward to a positive relationship.
Read Other Articles In Article (Archive)