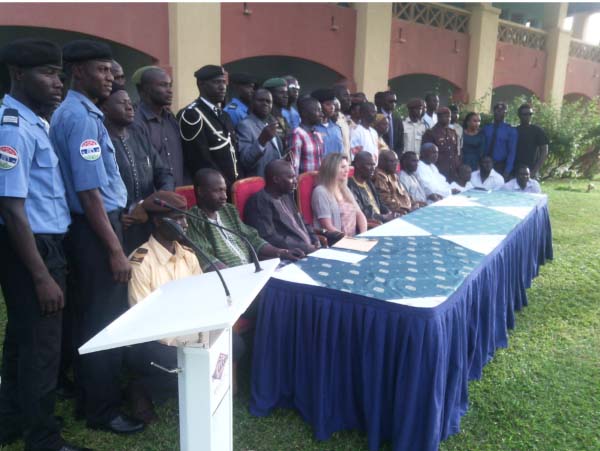 Twenty-five security personnel have received certificate on refugee law and international protection after completing a three-year training programme organised by the United Nations High Commissioner for Refugees (UNHCR).
The presentation of certificates took place at a hotel in Kololi on Friday.
From 2014 to 2016, the UNHCR has been conducting capacity building training for instructors at seven security and law enforcement schools on refugee law and protection.
The training was meant to create a better understanding among the security fraternity of both international and national refugee protection instruments.It was conducted with a view to ensure a favourable protection environment for refugees and other persons-of-concern.
Sekou K Saho, head of office, UNHCR Gambia, said the presentation of certificates marks the end of the training programme that started three years ago, in 2014.
He said the main objective of the programme was to help develop the capacity of the state and its institutions in refugee protection and assistance.
States, including The Gambia, are signatories to the international conventions on the protection of refugees and other persons of concerned to UNHCR.
"This is why we refer to states as the primary protectors of refugees," he said, adding that the UNHCR provides technical support to states to enable them to better perform their primary protector role.
Initially, Mr Saho said, the UNHCR Gambia used to conduct training for security agents on ad hoc basis.
"It was in 2014 when we decided to change this approach to training of the state agents," he said. "The seven participating security training schools responded positively to our new approach and have since been very cooperative as partners in the programme."
It is expected that the security training schools that benefited from the training will pass the knowledge gained not only to their recruits, but also to serving officers through refresher programmes.
Mr Saho said for UNHCR, the completion of the training is not the end of the road.
"We intend to continue working with the schools to keep them engaged in the training of refugee protection as part of their regular curricula activities," he said."In this way, we shall succeed in spreading the knowledge of refugees protection to a maximum number of state security agents, men and women, for more effective protection of refugees in The Gambia."
The training took the form of annual seminars, classroom observations and provision of resource materials for self-study.
The Gambia continues to play host to many refugees, especially those from the sub-region of West Africa.
Read Other Articles In Article (Archive)