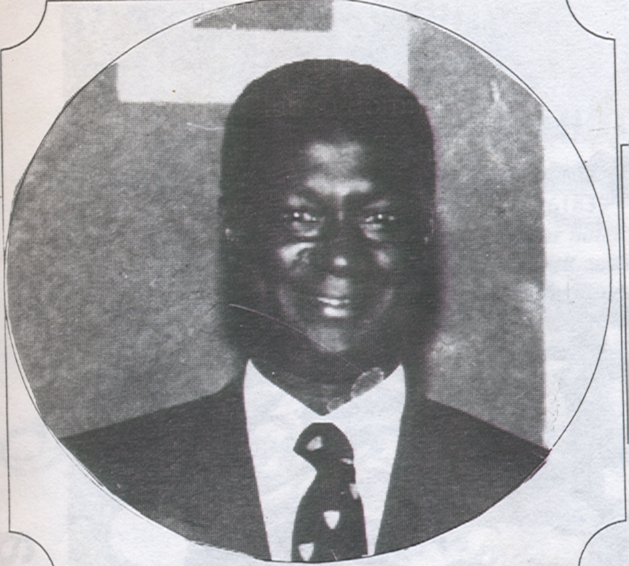 On Saturday the 10th of May 2008,was another day in the history of Gambian sports as Biri Njie gets the highest sports award while 14 others and 1 institution were also awarded by the Gambia National Olympic Committee ( GNOC )  for their outstanding performance in the development of sports in The Gambia. These personalities and institution include, Alhaji. Ebou Joof, Alhaji Momodou Ngoos Njie alias ( Biri Biri ), former Gambia national U17 team head coach Fred Osam Duodu,  Ms. Amie Colleh Sinyan,  the former German international coach Holger Obermann, Edrissa Njie alias Chico, Abdou Karim George, Momodou Chucks Jallow, Saul Jeng, Robert Ndow, Fredica Gifty Allen, Alpha Abu Khan, Saihou Omar Sallah, Alhaji Abdul  Aziz Ceesay , Saihou Sarr  and Trust Bank Limited/ Western Union.
Biri was awarded as the outstanding sports personality, the Gambian veteran Alhaji Momodou Ngoos Njie alias Biri Biri who for many years won the hearts, respect of every Gambian young and old, was born in the late 40's, was first selected for the national team in 1963 when he was still going to school and was automatic choice  for selection in the national team until 1985- a staggering 22 years. He continued playing for his last team Wallidan until 1987 when he finally decided to hang up his boots.
The occasion was organized in a form of a Banquet and award ceremony at the Novotel Kombo Beach Hotel.
Speaking at the occasion the president of the Gambia National Olympic Committee (GNOC), Alhaji A.B Dandeh Njie, said, "the occasion is to recognize and honour those persons who by their commitment, dedication and sacrifice, have contributed immensely to the development of sports, particularly in The Gambia".
According to the GNOC president, the awards committee under the able chairmanship of Alhaji Hassan Joof have yet again done an excellent job in their selection of awardees for honours, he stated.
In his remarks the Honourable Secretary of State for Youths and Sports, Mass Axi Gai, said that the entire Government is firmly committed to the progressive development of sports throughout the length and breadth of The Gambia. " Our resolve in this regard has been elaborated in the adopted Youth and Sports policy document of this government. We naturally value and appreciate that sports is universal and all embracing, and must therefore be preached and practised in close partnership with all sections of society".
According to Youth and Sports  State Secretary, ' this awards ceremony is of special significance as it would publicly recognize, acknowledge and decorate those deserving individuals and  institutions who have done and/or are doing so much to constantly improve the sporting environment within and outside the field of play'. He then commended the GNOC awards committee for activating the sponsorship for sports awards as an incentive to the private sector who contribute tremendously to the development of sports in our beloved country.
Meanwhile, the Gambia Revenue Authority GRA were awarded the 'Most Disciplined' team trophy. Standard Chartered Bank were the 'Best Dressed' team while the Security and Police force were crowned as the champions of the 2008 May Day sports.
 The occasion was witnessed by the first vice president of the Gambia National Olympic Committee and member of the IOC Ms. Beatrice Allen, Director of Youth and sports, Malang Jarju, Alhagie Dodou Capy Joof, Alhaji OB Conateh, George Gomez Executive Director of GNOC,  and members  and a cross section of the diplomatic  and consular corps, and of various institutions.
Below is the list of those personalities and institutions that were honoured during the overwhelmingly significant sporting event on the calendar of GNOC.
Hall of Fame award
Alhaji Ebou Joof
Mr. Edrissa Njie ( Chico)
Ms Amie Colleh Sinyan
GNOC Merit Award
Ms Fredrica Gifty Allen
Mr. Alpha Abu Khan
Mr. Saihou Omar Sallah
Mr. Saihou Sarr
Posthumous Merit Award
Abu Karim George
Momodou Chucks Jallow
Saul Jeng
Robert Ndow
Honorary Merit Award
Fred Osam Duodu
Holger Obermann
GNOC Most Outstanding Sports Personality
Alhaji Momodou Njie ( Biri)
GNOC President Award
Alhaji Abdul Aziz  Ceesay
GNOC Sponsorship Award
Trust Bank Ltd/ Western Union.
Read Other Articles In Article (Archive)